Pam Firestone, manager of the computer lab at the Arts Academy at Bella Vista in Clovis, New Mexico, sees firsthand how excited students are to be a part of the Red Cape Nation. She enthusiastically shared how she uses Istation data to measure growth for each classroom at the school, and then awards the top three classrooms red capes for the week!
"Istation has been an exciting learning tool for our school," said Firestone. "Our district began implementing the Istation Reading last year, and the enthusiasm at the Arts Academy at Bella Vista has grown tremendously since then."
She went on to describe how the school began to foster that enthusiasm. "After purchasing a classroom set of Istation Capes — thanks to the insight of our principal, Dr. Shelly Norris — I decided to start a healthy competition among our classes and reward the classes that show the highest average growth in their Ability Index from month to month." This healthy competition has motivated students more than ever before to improve their ISIP™ results!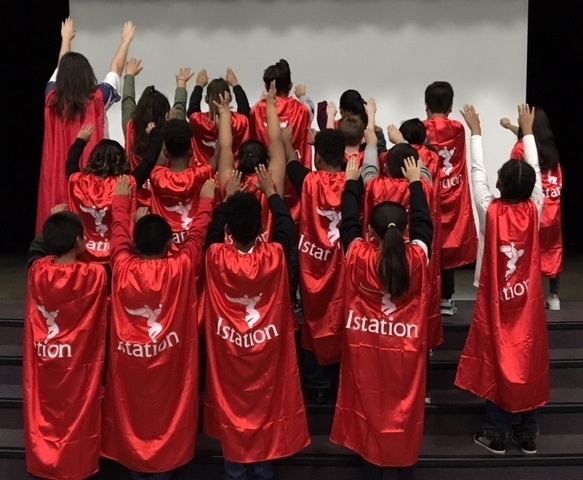 A group of 5th graders shows off their hard-earned red capes.
Firestone went on to explain her process for determining each month's winning class. "As a lab manager, I have access to all of the students and their data. Using the Summary Report and documenting each class's Ability Index levels, I am able to quickly calculate which class has the highest gain in reading and math. Then I average the two gains to determine which classes improved the most."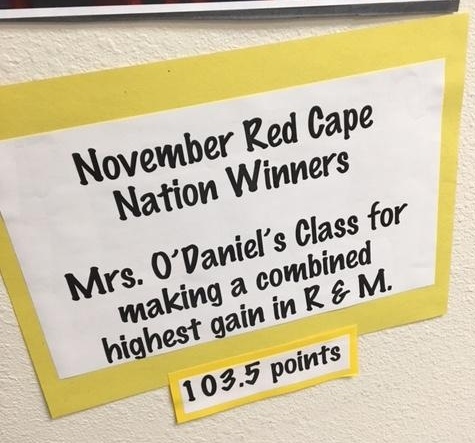 Once Firestone has determined the top three classes for the month based on this average, she prepares to announce them to the school. "I pop into our Morning Meeting in the beautiful Performing Arts Center with an armful of capes for the winning class. Drumroll, please! The students are quietly sitting in anticipation as I throw out the numbers of the top three classes. Then, when they can stand the excitement no longer, I announce the class winners!"
"Students, along with their teacher, proceed down the bleachers to the stage, where I hand each one a red cape to place on their backs," she told me. "After lots of cheers and hoopla, we settle in for a picture that will be placed in the hallway near our three computer labs to be on display for all to see!"
Students wear the capes every day for an entire week, and it has been exciting for teachers to see even the oldest students at the school feel proud about this accomplishment. The red cape makes each of them feel like a superhero. Firestone confirms, "They walk very proudly and love being part of the #RedCapeNation! We can't wait until next month when new winners will be announced!"