Tai Rodney is a 1st grade teacher at Taylor's Creek Elementary School and a brand new Istation user. Her school in Hinesville, Georgia, rolled out Istation Reading and Math in January 2017. Today she shares with us what she's learning.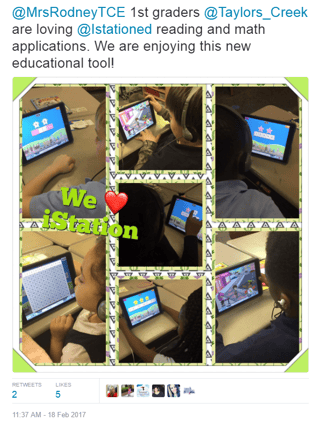 After seeing Rodney's post on Twitter, I asked how she was using Istation Math and/or Reading with her students.
"I use it [Istation] as an assessment, especially with regards to Lexile reading scores to compare them to other tests we use in the county. I also use the program as an enrichment for those needing a more challenging approach. I love how it is able to accommodate to all learning levels. I particularly use the program to remediate for my small groups and RTI as it tiers the students for me. One of my favorite features is the 'idle time display' ability to see which students are staying focused and on task," said Rodney.
She went on to say, "I am sure there is more, but I have only been diving into it for about two months. It is very user friendly, which is a plus for me."
I was overjoyed to find out that she knew so much about Istation despite her short time as a user. I then asked if she had been given formal training before using the program.
"We had a brief staff development training on it, and I believe a more thorough training is coming soon once most, if not all, staff has a good solid month or two of data built up. In any event, once I dove in I was able to see how user friendly it is to work with and truly enjoy the immediate graphs and student tiers generated, which I am able to use as comparison charts to other assessment tools I use in the classroom," she said.
Her students love it too. They get excited about working on a fun, game-like application. Rodney is impressed with the colors of the programs, the songs and voices of the characters, and how much they appeal to her first graders.
When asked what her favorite feature has been, she answered with this:
"I love how the program tracks students' needs and provides instructional strategies. Our school is focused on creating a more beneficial and blended learning environment, and this application proves to be a hit!"
If Rodney could give a piece of advice to a teacher that is brand new to Istation, she would say . . .
"Try it . . . go for it. I was hesitant at first, to be quite honest, as we are given many different applications to use as assessments, and I find this one to be the closest to where I want to see growth in my students such as in Lexile scores. The program is very easy, and the students enjoy the excitement and innovation."