Benefits of Providing Adaptive Technology for Pre-K Learners
Early childhood educators are continually trying to find the balance between developmentally appropriate practices and academic benchmarks. They are discovering that in pre-K learning environments they can no longer take a one-size-fits-all approach to instruction. This is where adaptive learning technology becomes beneficial and has the potential to meet their needs.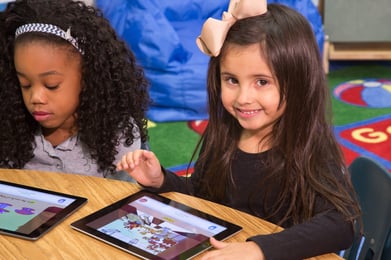 The goal of adaptive learning technology is to support (not replace) the talents of our educators in order to provide the best possible learning experience. This can be achieved through analyzing students' performance in real time and modifying instruction based on data provided by the implemented technology.
That said, it's important to understand your intention when providing adaptive technology and recognize the potential benefits for learners before implementing it. This ensures that you are providing the right technology for your pre-K learners to reach their goals.
What to Consider When Implementing Adaptive Technology for Pre-K Learners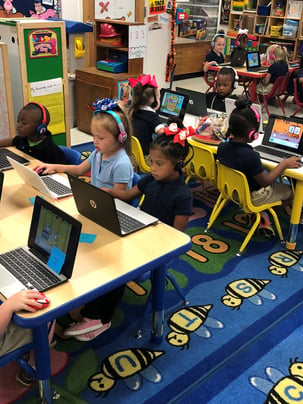 Implementing the right adaptive technology for your school or district should be done with the intent to benefit all pre-K learners. Early childhood educators must make thoughtful decisions about the use of technology in their classrooms, asking themselves questions like…
Is the intent to teach or entertain?
Does this technology aid instruction?
What's the best strategy to integrate technology for my learners?
When educators ask themselves these questions, they are being intentional and selective with technology use. This will ensure that it's a powerful classroom tool.
4 Benefits of Providing Adaptive Technology for Pre-K Learners
Building upon the learners' experiences and the school's instructional plan allows for a seamless introduction of technology in the classroom. Because of their exposure to technology, pre-K children learn to use the devices quickly, independently, and confidently.

Adaptive technology recognizes that not all early learners master skills at the same pace. With adaptive technology implementation, educators are able to provide the right instruction for each individual learner. This increases the chances of their students achieving the potential benefits.

Read about a few of the benefits that providing access to adaptive technology can offer your pre-K learners.

1. Promote school readiness and cognitive development. Pre-K learners can build foundational skills and gain meaningful experiences when they interact with adaptive technology. They can use these tools to…

investigate new ways of learning,
experiment with interactive tools and resources, and
develop skills to prepare them for future learning experiences.
Adaptive technology helps enhance early literacy and math skills through its approach to teaching in a child's Zone of Proximal Development. It's in this zone that true learning can take place because it challenges students at the appropriate level.
2. Build social skills with interactivity. Play is a large part of pre-K learners' first learning experiences. While not all play is game-like, both play and games share one fundamental component: interactivity.
If we observe how children are already using digital technology, it's easy to see that they view it as an interactive and social tool for many activities like…
singing
reading
playing games
writing
drawing
3. Increase motivation to learn. Adaptive learning technology motivates young learners to learn. They are encouraged to engage, create, and unlock the next level when they are participating with the technology. This builds up a student's motivation to keep trying and overcome challenges with the positive reinforcements offered.
4. Prepare students for twenty-first-century learning. Intentionally developing tech skills and practicing their application is necessary to prepare pre-K students for success in their future careers. Access to technology is widespread, and increasing early exposure and interaction with it opens the door to new possibilities.
When balanced with other interactive, hands-on experiences as well as art, music, and outdoor play, adaptive technology can be a valuable part of building the foundation for future learning to come.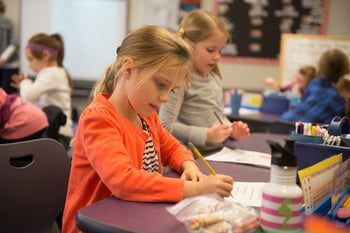 Utilizing Istation's Technology Designed with the Early Learner in Mind
At Istation, we understand and respect the needs of young learners. Istation's reading, math, and Spanish literacy programs have content that is created specifically for the young learner.
Each lesson is designed to be developmentally appropriate for young children. Skills are taught through songs, games, and many interactive activities that not only keep children engaged but also allow learning to be exciting and fun. While children work within the programs, they are encouraged to clap, sing along, and talk about their learning.
Thinking and learning in a multimedia environment is the reality of children today. Integration of today's tools in their classrooms enriches their overall early childhood experience.
To learn more about Istation's early learning programs, contact us today.