Every teacher faces the challenge of grouping students for small-group intervention time. Knowing what skills students need helps play the biggest role in making small groups effective for growth.
Brenda Bogdan, an ESL teacher at Grace M. Breckwedel Middle School in Jamesburg, New Jersey, saw value in using a program that provided so many opportunities to track growth and tier students automatically.
Bogdan taught elementary students in 4th and 5th grade in Texas for four years as well as ESL students. She used Istation for collecting data, developing her small groups, and delivering targeted interventions to her ESL and non-ESL students. Read how she got the most out of Istation.
Q: What challenges do you see in the classroom with your students? Are they different for ESL students?
Bogdan: Some of the challenges that we face (as teachers) in the classroom are finding time to make effective reading groups, coming up with effective lessons within the groups, and establishing goals (and keeping track of those goals). These challenges are no different for our ESL population. Keeping good data helps us be effective teachers and time is our enemy.
Q: Tell me how you used the RTI/Tiering process that Istation provides?
Bogdan: Istation was extremely helpful when it came to the RTI/tiering process (something that was very important to do in Texas public schools and is now becoming a trend in New Jersey). My students would take the beginning-of-the-year assessment to establish a baseline reading level. They would use Istation regularly during their "daily 5" or reading block and take monthly assessments to monitor growth or needs for intervention.
If there was a need for intervention or if a student was having difficulties, the data from Istation would specify where intervention was needed. This report will automatically tier the student, thereby helping you establish what small group for intervention would be suited for the student.
The many data reports, based on the students' progress when using Istation, were an asset to helping me determine any reading intervention needs for my students. These reports and lessons would save us time. This much-needed time was used more effectively during our reading group instruction and/or planning process.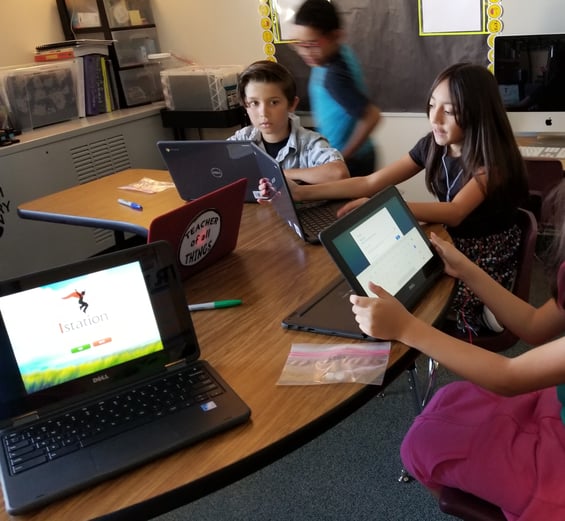 Q: How did Istation help you as a teacher in other ways?
Bogdan: Some other ways Istation helped me as a teacher included tracking my students' progress — either from a prior grade level or from month-to-month use within my classroom. Istation was also helpful with establishing goals for my students or for my evaluations (both in Texas and NJ public school systems). These goals were easily communicated and tracked by the students and myself. They were extremely helpful in administration meetings when discussing data improvement needs or celebrations and also for parent-teacher conferences.
In addition to these components, Istation helped me with choosing quick and easy lessons that would address the needs of my students within their small groups. I could also electronically assign lessons (homework/classroom practice) to each student (either by group or individually) based on their needs. Istation helps me be very effective in and out of the classroom.
Q: From your experience working in two different states, why is tiering students and having small groups important to a student's success?
Bogdan: In Texas (Leander ISD) it was a crucial way of tracking student progress to improve reading. Implementing small groups either for intervention or to challenge students is a great way to help address individual needs. They are many scholarly reports that prove students show more success if scaffolding is individualized. With the new trends of teaching and student-based learning, New Jersey is beginning to see the importance of small groups and tiering.
This tracking process helps us teachers see growth and needs clearer, thereby making it easier for us to plan, scaffold, and report to RTI committees.
Q: What type of results have you seen with Istation?
Bogdan: Our students love this program. The program had a gaming effect to teaching literacy. It would help them with vocabulary, spelling, comprehension, and fluency, etc. We would always make it important for them to do their best since the program would increase their reading abilities. It would challenge them on a comfort level based on their scores, never making it too hard or too easy.
We also had a bilingual program for K-5, and Istation had a great Spanish component that helped them become successful. This also assisted us with our Spanish-speaking ESL population.
The program's gaming effect enticed all of our students. I have yet to meet a student who doesn't love video games. Istation really had a great way of improving literacy by sparking the students' interest through the love of gaming.
To find out more about tracking growth and tiering students visit www.istation.com/SuperSeven/PersonalizedDataProfiles.