Providing schools with actionable and insightful data to enhance engagement and improve educational outcomes, Istation's personalized data profiles include time-saving functionality and easy-to-use reports supporting multiple products.
Advanced search and side-by-side summaries across multiple products support a variety of instructional approaches. Plus, biliteracy reporting covers Istation Reading and Istation Español data in a single report.
Classroom Page: Multiple Product View
Compiling assessment status and instructional activity into one report for Istation Reading, Istation Math, and Istation Español
Istation's Multiple Product View on the Classroom page presents student data from all Istation products in a single report.
Select "Show Multiple Products" for a combined look at the Istation's Indicators of Progress (ISIP™) status and weekly activity. Plus, filtering options help educators get a closer look at each student's progress.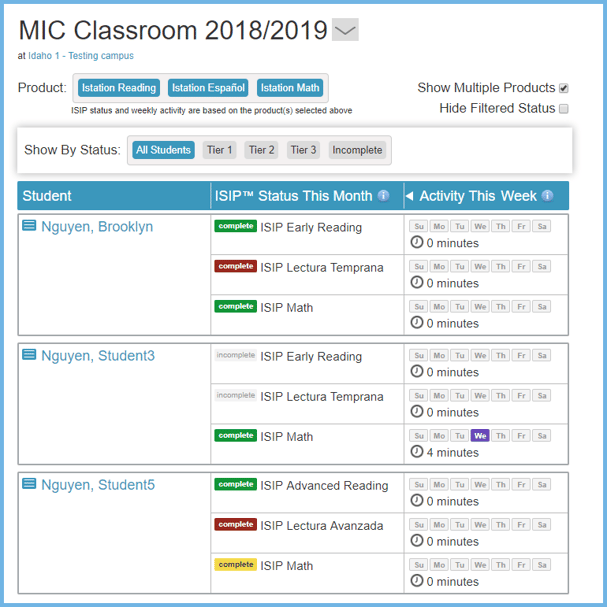 Teacher Resources: Advanced Search
Quickly find reading, math, and Spanish resources by text, academic standards, and Lexile/Quantile
Istation's Teacher Resources section provides time-saving Advanced Search capabilities. Simply enter criteria to get the appropriate resources to help educators customize instruction and support diverse teaching approaches, including small- and whole-group learning.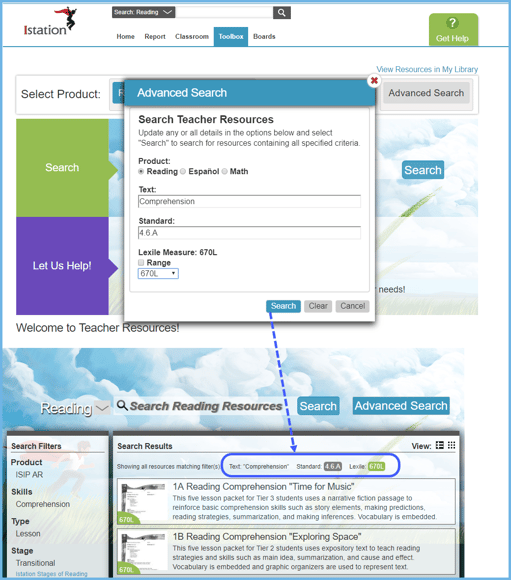 Classroom Summary: Biliteracy Reporting
A side-by-side summary of Istation Reading and Istation Español data in a single report
Specifically designed to support dual-language instruction and biliteracy programs, this reporting option can be found in the report builder. Educators can select "Include All Reading Products" to generate a side-by-side comparison of results for students using Istation Reading and Istation Español.
Schools can use the feature in the Classroom Summary report to identify skill strengths and weaknesses, group students for small-group instruction, and more. It compiles skill performance, Lexile level, usage, cycle placement, and other data points for both reading products.