Just three months after the release of Level 1 of Timeless Tales 2.0: NexLevel (TT 2.0) in October 2017, Istation is excited to announce the release of Level 2. New content will be available February 9th. This level comes with new characters as well as fresh activities and lessons that introduce new skills.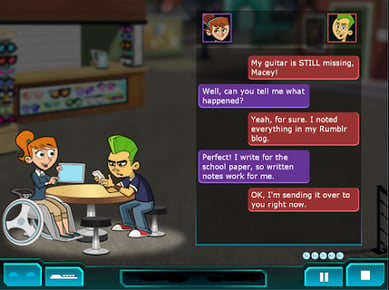 Student players return to the Hub to find that there is a new kiosk (SOLO Shades) and a new mystery to solve. Zak's guitar has gone missing, and the whole Hub is on lockdown until it's found. It's up to student players to gather data about what has happened by checking out the Hubsters' interactions and social media posts. As always, SAGE is there to help along the way.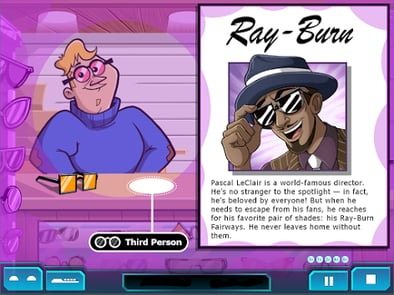 In Level 2, players meet Hanz, who introduces them to subjective vs. objective and first and third person points of view. Players have the chance to compare text written in different points of view by trying on some of Hanz's shades. Content on demand is available at the SOLO Shades sign in the Hub, where students can access animated scenes to learn more about how and why authors use a specific point of view.
Holy hexagons! The portal is confused! Is the destination New York City or Paris? It looks like that data corruption is spreading fast! The only way to fix this mess is to power up the portal in the Arcade.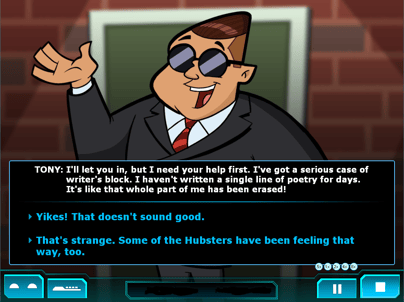 Tony has another conundrum for the players to think through. What happened to Zak's guitar? Student players must demonstrate their understanding of point of view so they can gain access to the Arcade!
Once they answer Tony's questions, student players enter the Arcade to find a new game! In Abnarwhal, students practice their root word skills while trying to help Sig, the octo-viking, escape the dreaded mechanical narwhal that's swallowed him.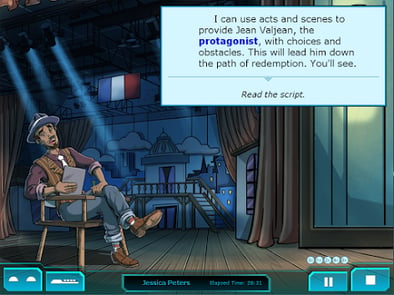 Then it's back to the portal, where players are whisked away to New York City. Players meet Pascal and engage in an interactive, branching conversation about the theme, characters, and events in his newest Broadway production, Les Misérables!
Players will read excerpts from the Les Mis script, analyze the setting, and evaluate scripted dialogue paired with stage directions to find the best way to present the action. Will players successfully repair the data corruption by choosing the stage directions that make sense with the dialogue of the scenes? Each scene repaired gives immediate visual feedback in the form of an animated vignette so students can watch the scene being performed.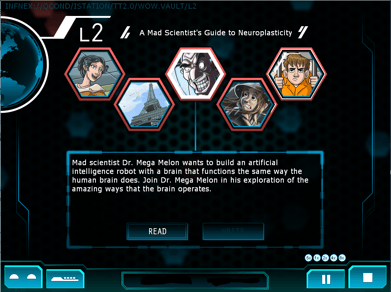 Once Les Mis is successfully restored to the Information Nexus, players reflect on what they've learned and accomplished with the Fluency Journal activity. They then move on to World of Wonders self-selected reading, where they choose and read one of five new, high-interest passages and complete a written response to level up.
Stay tuned for Level 3 of TT 2.0!
Print off this month's updates here.