How to use your television as a summer teaching tool
Every parent knows how tough it is to tear kids away from the television, especially during the hot days of summer when it's so much more comfortable to be inside.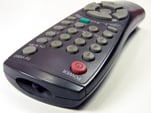 Instead of surrendering to the allure of mindless TV watching, you can make TV your "literacy partner"! Here area a few ideas:
Look through the programming guide and have your child select the show (or shows) he or she wants to watch that day, and then have them make a persuasive "speech" as to why they should be permitted to watch.

After the show (perhaps at mealtime), ask your child to give a report by recounting the plot, describing the characters, and explaining any "moral" or "lesson" contained in the story.

Ask what they liked or didn't like about the program, and suggest they script their own alternate ending.

After watching a series of commercials, challenge your child to invent an even better product and write a commercial or a slogan for it.
Who knows? Your encouragement might inspire the development of the next great screenwriter or inventor!
How do you use everyday tasks as opportunities to learn? Share your suggestions with us on Facebook or Twitter, using #Istationed. Read these other great summer literacy suggestions in previous Istation blog posts.