Michele Lovett is a 1st grade teacher at Waldron Elementary School in Arkansas. She has been using Istation for one year and uses multiple types of motivators in her classroom to reach all learners. We interviewed Lovett to learn more about her Istation experience.
Istation: What kind of role does motivation play in the classroom?
Lovett: While data allows me to know what issues to focus on during lessons with groups and individuals, the data alone does not ensure that every child will reach their potential. One of the keys needed to unlock every child's superhero potential is motivation.
The more motivated a student is, the harder they work in the classroom and at home. I have seen motivation play a huge role not only in my classroom, but in my own household. My daughter is compelled to succeed in classes, competitions, and work through extrinsic motivators, while my son's life is dominated by intrinsic motivators. Through parenting and reaching children in various capacities throughout my life, I have seen the importance of using multiple types of motivators in the classroom.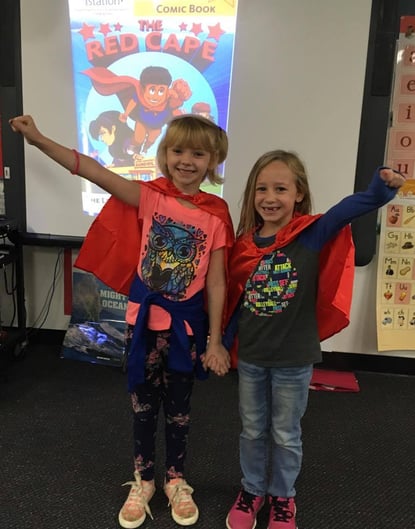 Not all students learn the same way, and not all are moved to learn in the same fashion either. To ensure the success of every student, I use both intrinsic and extrinsic motivators in the classroom.
Istation: How do you motivate students to use Istation?
Lovett: I try to instill a sense of accomplishment in mastering points of the learning paths by having all my students cheer for each name called. The names I call are those who have improved their scores in Istation assessments. Any student who improves his or her score will also receive an Istation certificate of appreciation during the classroom award ceremony we hold every 9 weeks.
I bring in guest speakers such as college students who tell the 1st graders about the wonderful things they are doing and how every single subject and discipline in our lives revolves around fluency in reading. I hope that my efforts to foster a love for learning and ignite a passion for reading through intrinsic means will be long-lasting and self-sustaining in my students' futures.
I also use extrinsic motivators in the classroom to help quickly produce behavior changes through positive reinforcement. During any extra time or pack-up time, my 1st graders take turns playing Teacher Station games. They compete with each other and with me as well. The fast nature of the games allows for students to have the immediate reward of winning.
Istation: Can you tell us about what the red cape means in your classroom?
Lovett: My students all have the opportunity to wear red capes. While they must work to earn the red cape, I choose different requirements for the capes in order to keep students motivated and dedicated to working towards their goals. The requirements include individual growth, highest scores, and more. By the end of the year, I want each and every student to have his or her red cape moment and to feel the empowerment that comes with achievement.
Do you have an inspiring Istation story of your own? Tell us about it! Submit your story to RedCapeNation@istation.com.