So you've got data from your students' monthly assessment. Great! What's next?
Lillia Caro and Ashley Pimentel are two dual-language kindergarten teachers at Huntingtowne Farms Elementary School who use Istation Espanol in their classrooms daily. They use their classes' results to build relationships with their students and their students' parents. Find out how below!
Step One
Have students take the Istation Indicators of Progress (ISIP™) assessment close to the beginning of every month. Do this as a class so there are as few distractions as possible.
Caro said that her students perform better when they are using headphones while working on Istation. She tried using no headphones one month, and her students' scores went down. So try to provide headphones for your class to limit distractions as much as possible.
Step Two
Istation offers insights via its many data-rich reports that can help you see how students did on the assessment. Caro and Pimentel often use the Session Summary and Activity Detail on the student page to see who had excessive idle time.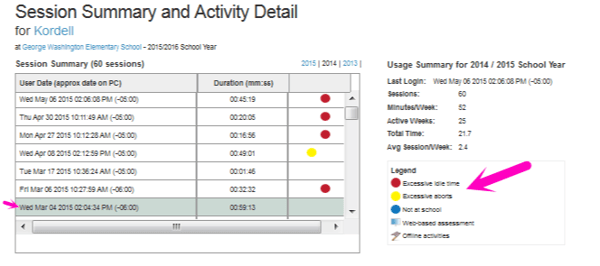 When you view the report, you may see a red dot next to a student's assessment, indicating there was excessive idle time. This means the student did not interact with the mouse for two minutes or more. This could indicate that the score may not reliable because the student was distracted or otherwise not doing their best at that time. Seeing small details like this can help teachers know when to have a one-on-one conversation with a student about test-taking habits and how they can improve.
Step Three
Caro and Pimentel's school thrives on small-group time with students. Istation provides everything they need to run their small groups.
The Priority Report groups students by ability level and provides links to relevant lessons on subject material students struggled with. The Classroom Summary report groups students by tier and shows who is in need of critical intervention. But it doesn't stop there; this report also provides direct links to critical intervention lessons.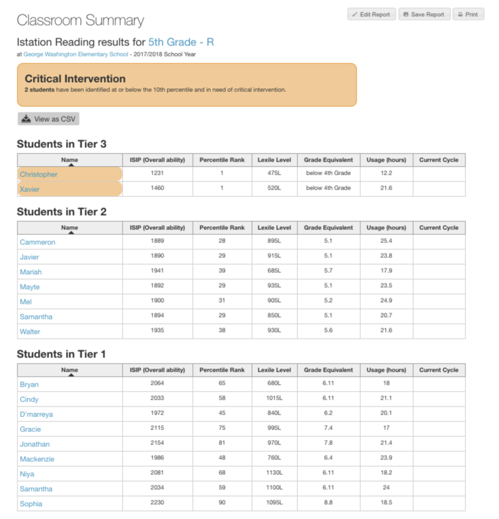 As a first-year teacher, Pimentel enjoys Istation very much. Her favorite part of Istation is the ready-made resources that are available at her fingertips. "If I didn't have Istation Español materials available to me, it would be hard," Pimentel said. The ease of finding these resources makes leading small groups with her students seamless.
Step Four
Caro and Pimentel get their students' parents involved with Istation's reports at their first teacher-parent conference of the year. They let parents know that their child will be using Istation Español and that the reports will go home with report cards, allowing the parents to see progress throughout the year.
The Student Summary handout is a great report to send home to parents, as it includes details on their child's progress and areas of growth each month.
Teachers have a lot on their plates at any given time. Using Istation Español has freed up valuable education time and provided effective tools for intervention in Caro's and Pimentel's classrooms.
Keep up with the latest in educational technology, classroom best practices, and Istation's community of educators by subscribing to the blog. Get monthly, weekly, or daily updates to stay informed. Subscribe at the top of any page!