Today's four- and five-year-olds have never known a world without laptops, smartphones, and tablets. Even the casual observer can see that technology is a natural part of life for today's young children. Whether at the grocery store, mall, or restaurant, we see children interacting with e-book readers, smartphones, and tablets. Today's children are born into a society that revolves around our modern technology devices.
Despite the omnipresence of technology in the lives in children, a debate persists about the expanding use of digital technology in early childhood classrooms: does technology enhance or harm the development of young children? The arguments for and against the use of digital technologies in education and entertainment of young children appear to be concerned with the quality and value of children's experiences with digital technologies and how those experiences impact their development. These arguments raise questions about the value of these devices and what advantages they offer to those children in the formative early years, specifically in the development of academic skills such as early literacy skills.
Those that argue against the increased use of technology in the classroom worry that technology and devices are replacing children's opportunities to play, talk, and interact with their peers. Others feel that using digital technology will take time away from other activities such as outdoor time, art, and dramatic play. Many view the use of digital technology as another form of screen time and are concerned about the value of content children interact with at home and school.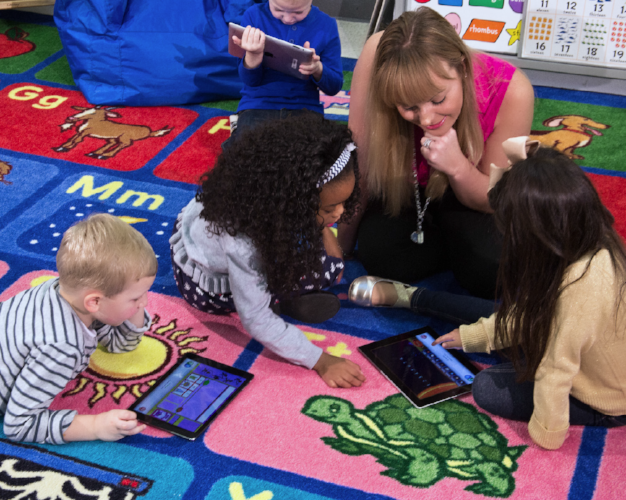 Yet these concerns ignore a central reality: if a classroom is meant to represent the culture and world in which a child lives, the classroom must not only accommodate technology but also seamlessly integrate it.
Computers and game consoles have been in the homes of young children for decades, and the use of digital mobile devices such as smartphones, iPods, and iPads is growing at a rapid rate. Common Sense Media (2013) reports that 75 percent of children under the age of eight now use mobile devices. That's three out of every four children.
With increased popularity, tablets are becoming a common household item available for many uses within the family, and oftentimes they are used in play by the family's youngest members. The use of tablets and touchscreen technology by young children is also rapidly increasing in some early childhood settings (Rideout 2013). The touch-operated, tactile devices provide an easy-to-use and intuitive interface for a young child.
As tablets become a part of the context of a child's world and an object of their play, it is important that these devices are integrated into the early childhood environment. Just as play takes on an important role the in the cognitive development of children, tablet play may also do so for children both today and in the future.
If today's classrooms are to represent the culture in which our children live, then we should appropriately integrate technology into the classroom. When balanced with other interactive, hands-on experiences, art, music, and outdoor play, technology and computer-based learning can be a valuable part of the early childhood classroom.
Tune in live to listen as Tracey Roden, Vice President of Curriculum and Research at Istation, discusses the topic of "Integrating Educational Technology for Early Childhood" for an Education Week Webinar. Join us on Thursday, September 22, 2016, at 2:00 p.m. EST. Register FREE here!
To get a copy of the FREE eBook Modeling the World of a Child, click on the cover below: