Dad sees growth as daughter on the autism spectrum falls in love with Istation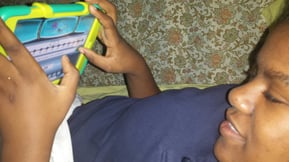 Khalila Halisi smiles a lot. She laughs even more than she smiles. She gives hugs and shares kisses. Affection is one of the main ways she communicates.
Khalila is on the autism spectrum. Doctors diagnosed her when she was not quite three years old. Now 12, Khalila remains non-verbal.
"It manifests itself with no speech," her father Hakim Halisi says as he describes Khalila's autism. "But she does everything else. She's a beautiful smiling girl."
When teachers introduced Khalila to Istation, she was immediately hooked.
"She'd come home, go right to the computer, go onto the internet, spell out Istation and try to get me to sign her on," Halisi says. He became intrigued by the learning program that was so exciting for his daughter.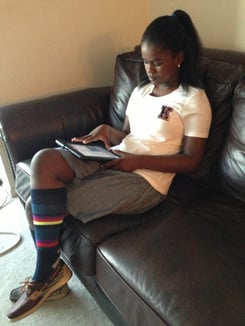 Because Khalila's school had subscriptions to Istation Home, Khalila was able to work on Istation while sitting on the couch with her mom and dad. They were impressed by how engaged Khalila was. They also saw Khalila learning.
"As we read together, I could tell she benefited, especially with her sounding out of words and things like that. The more opportunity for her to work on language, the better," Halisi says.
As Khalila moved to middle school, her parents worked with a campus specialist and the Istation sales team to ensure their daughter had continued access, because they knew Istation was making a difference.
"She just loves it," says her father. "It feels like a game for her, but she's really getting something out of it. Because the program is the way it is, she gets something appropriate for her. She's not at grade level, and this gives us an opportunity to work with her."
Halisi says he thinks Khalila responds to Istation because the graphics are rich and the animation is engaging. He's thrilled to see her communication skills growing as she has fun.
"I think it's a great program. I think it's well done and I'm very happy," Halisi says. "I'm an Istation champion."