As a kindergarten teacher ten years ago, if I had been asked to take an inventory of the technology in my classroom, the list would have consisted of the cassette tape player in my listening center, my overhead projector, and one very dated computer. Computers in an early childhood classroom were a rare sight. If you did find them they were likely broken hand-me-downs and unusable by young children.
A decade ago, I could have never imagined a classroom equipped with modern technology. Today's four and five-year-olds have never known the world without with laptops, smartphones, and even tablets. Even the casual observer can see that technology is a natural part of the lives of today's young children. Just a walk through a grocery store, mall, or restaurant leads to many sightings of young children interacting with eBook readers, smartphones, or tablets. Children are now born into a society that revolves around modern technology devices.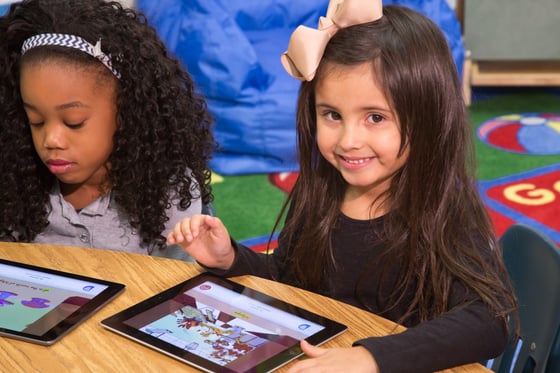 If today's classroom is to represent the culture in which our children live, then we should appropriately integrate technology into the classroom. When balanced with other interactive, hands-on experiences, art, music, and outdoor play, technology and computer-based learning can be a valuable part of the early childhood classroom. At Istation, we understand and respect the needs of young children. We want the integration of our products to support the values and goals of early childhood education.
Istation Reading, Istation Reading en Español, and Istation Math each have content that is designed specifically for the young learner. Great care is taken when creating educational content meant for the early childhood classroom to ensure that is purposeful, interactive and engaging while encouraging social interactions. Each lesson is designed to be developmentally appropriate for young children. Skills are taught through songs, games and many interactive activities that not only keep children engaged but also allow the learning to be exciting and just plain fun. At the same time, all activities have an educational purpose and intent of learning. While children work within the programs they are encouraged to clap, sing along, and talk about their learning.
When used intentionally and appropriately, Istation products support learning and enhance the early childhood experience. While young children are meant to have fun and enjoy the programs created with them in mind, the goal is to make sure their time with computer-based learning is worthwhile.