Basketball legend remembered for contributions on the court and in the classroom
Even the most casual sports observer finds the NBA Finals compelling. Gifted athletes sink improbable shots and seem to jump higher than humanly possible. Rowdy fans fill massive arenas hanging on every basket made and every basket missed.
The games are intense. They are exhilarating. They are fun. But this season, we at Istation are watching it all with heavy hearts.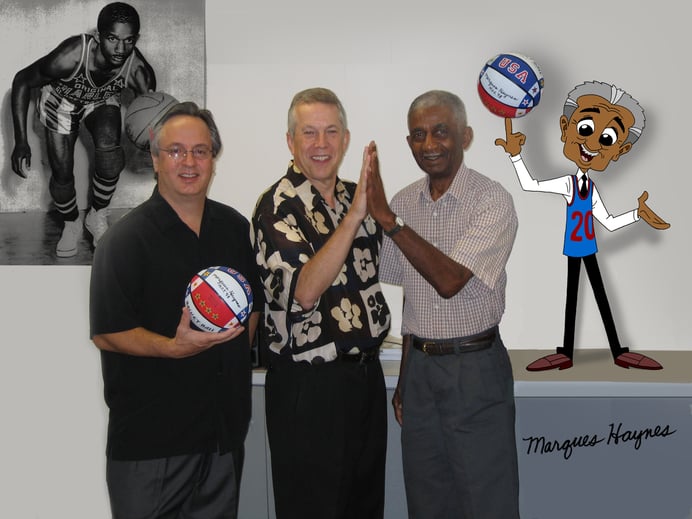 Harlem Globetrotter Marques Haynes, perhaps the most skilled ball handler to ever live, passed away May 22, 2015 at the age of 89. One of the greatest to grace the court was also one of Istation's greatest friends.
Haynes is the voice of the coach of Istation's animated basketball team called The Oddballs. Using an interactive game-like environment, Haynes and The Oddballs help students master tricky vowel combinations and their sounds.
When Haynes learned about Istation and the impact it has on students' literacy skills, he wanted to help. So Istation's Executive Vice President of Design and Animation Dan Kuenster immediately began dreaming up The Oddballs.
"Once we had Marques, we wanted to create a team just for him," Kuenster recalls.
What came next was pure fun. Kuenster studied old film of Haynes' games and exhibitions to ensure the animated version of Haynes would be authentic.
"We caricatured his signature moves and then pushed them further than reality," Kuenster says. The result was an entertaining depiction of a highly skilled athlete who Kuenster says was also warm, kind and caring.
Haynes had a passion for teaching children about hard work and perseverance, and during the voice recording session he spoke directly from the heart. Students still see this message at the end of every Oddballs lesson:
His message says, "When I was with the Globetrotters and we beat the NBA champions, we had to be the best in the world. It took a lot of practice. So be sure you practice hard and learn to read. And by doing so, you can be the best that you can. Your friend, Marques Haynes."
Marques will always have a friend and a fan in Istation -- not only for what he did on the court, but also for what he continues to do in the classroom. We miss you, Marques.