Discover the Benefits of Student Biliteracy
Research shows that there are long-lasting benefits to becoming biliterate and bilingual. Our society, culture, and educational experiences teach us to value students' linguistic diversity.
With the right support in place, schools and districts can pave the way for biliterate students to succeed in the classroom. Discover a few benefits that promoting literacy in Spanish affords students as you consider implementing bilingual or dual-language programs.
3 Benefits of Student Biliteracy
According to the National Education Association, English-language learners (ELLs) are the fastest-growing student population group in grades K-12. Bilingual and dual-language programs help develop language skills in not only the native language but the second language as well.
With a plethora of resources available, attaining biliteracy skills can start as early as prekindergarten. Educational initiatives like California's Proposition 58 pave the way for expanding bilingual education in states with large populations of ELLs.
We interviewed Irina Owens whose daughter Adele is part of her school's dual-language immersion program in Texas. Adele is a native English speaker working to attain biliteracy in English as well as in her second language, Spanish.
With Owens and Adele's help, let's explore three key benefits of student biliteracy.
1. Improved Reading Fluency in English
Bilingual learners are discovering how language works. Their active, flexible brains develop the ability to transfer skills learned in one language over to the other.
Oral reading fluency is an important aspect of becoming a successful reader. Using a digital tool like Istation to measure oral reading fluency skills can provide detailed insights into students' abilities. When readers can accurately and smoothly express what they are reading, they are bridging the gap between word recognition and comprehension.
Adele's fluency skills grow not only in Spanish, but in English as well. When Owens and her daughter read chapter books at home, Adele is more comfortable sounding words out as they read along.
"She's starting to show more interest in spelling new words and putting together sentences with her own imagination," Owens said. "She is showing such an interest in putting together those sentences and phrases."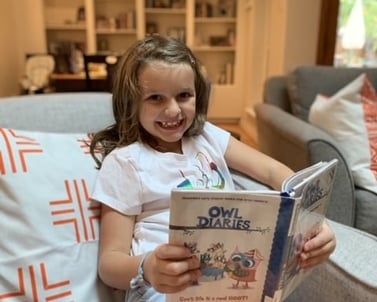 Adele Owens
2. Enhanced Cognitive and Emotional Skills
Biliterate and bilingual students strengthen their cognitive abilities. They can pay attention better and have an easier time focusing, remembering, and making decisions. They are training their brains to think about language.
An NPR article states that people who speak two languages often outperform monolinguals. This is because they can pay focused attention without being distracted.
Bilingual students also benefit in social-emotional areas like these:
Creating strong friendships in their second language
Maintaining strong ties with culture and community
Enhanced empathy in picking up on social cues from those around them
Adele has experienced a confidence boost from working with her immersion peers and teacher. She is encouraged in the classroom to take risks and try new things while learning. She is positively reinforced when she practices Spanish literacy instruction at home after school as well.
Adele's dual-language immersion class is getting extra instructional practice at home with Istation Lectura Temprana. The program allows Adele to work at her own pace without having to compare her work with other students.
"Every time she is doing something well on Istation, there's always clapping and affirmation of a good job. This happens even when it's not 100% right, there are still affirmations. I think this also comes from the classroom. It is an environment where confidence is probably one of the biggest factors," Owens said.
3. Advantages in Education and Job Opportunity
There is a growing demand for bilingual talent in major industries in the United States. Research shows that employers increasingly desire workers who speak multiple languages. Between 2006 and 2015, the number of job postings looking for bilinguals more than doubled nationwide.
Online programs that support biliteracy help equip students with unique strengths that will serve them in school and beyond. These type of programs offer schools:
instructional practice materials for home use;
online reporting features to track student progress; and
instant access to materials, reports, and tools to strengthen student understanding, whole-class instruction, or parent-teacher conferences
Click here to discover how Istation can support schools and districts, build biliterate learners and see powerful growth.