The Benefits of Virtual Learning Platforms
Whether in the classroom or at home, students need the right tools to stay connected with their instructors and the curriculum. Schools have been tasked with utilizing virtual learning platforms, like those provided by Istation, to help achieve this connection and avoid an interruption in learning. With so many options to choose from, schools are weighing the benefits of each tool before making the final decision.
Teachers, students, and parents are finding daily benefits from these online learning tools. Ensuring that the virtual learning platform meets the goals for teachers and students is essential to learning success.
8 Benefits of Utilizing Virtual Learning Platforms
The benefits of virtual learning platforms are numerous. We have highlighted the top 8 benefits that pertain to in-person and at-home learning.

1. Immediate feedback – Virtual learning platforms make it possible for teachers to give and for students to receive feedback instantaneously. Feedback can occur within the virtual learning tool or be shared as soon as a lesson is completed. Since assessments can be graded much faster using an online tool, teachers can skip that step and immediately follow up with their students.

This type of feedback is especially powerful when the chosen platform has comprehensive reporting available. Istation provides actionable reporting

that identifies students for small-group instruction and gathers supplemental resources for teachers to use.



2. Flexibility – Students have access to their assignments, tests, or practice materials any time of the day with virtual learning platforms. These tools give learners flexibility on when to complete their classwork. Also, teachers can upload, assign, and manage lessons for students using virtual learning platforms. This gives them flexibility to better manage the time spent between planning and instruction.

3. Reduced anxiety – Some students may find a virtual classroom or lesson much easier to participate in. These tools help eliminate anxiety over raising a hand in front of others or answering a question out loud. Online tools make it possible for all students to have equal participation with forums, discussion boards, and document collaboration.

4. Improved technology skills – Another benefit of utilizing virtual learning platforms is improving technology skills. By interacting with online tools like Istation, students are practicing their computer skills and gaining muscle memory with the easy-to-use platform.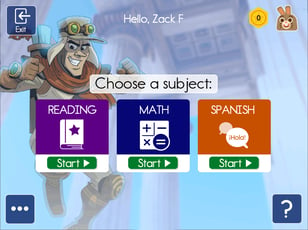 When students log in to Istation, they see an easy-to-navigate screen prompting them to take action.
5. Asynchronous discussions – Classroom environments have changed drastically over the past year. Teachers are now connecting with students in person, virtually, or both. Asynchronous discussions are more common in this virtual landscape. Virtual learning platforms give teachers the ability to connect with any audience no matter the learning environment they are participating in.

6. Cost savings – The benefit of saving money is often overlooked. Utilizing virtual learning platforms saves schools money on printed assignments, outdated literature, and other paper assets.

Families benefit from cost savings as well. There is no longer a need to spend money traveling to and from school to drop their children off. Learning can take place right at home.

7. Parent involvement – Parents, guardians, and families have become more involved in what their child is learning during the pandemic's school closures. They have taken on responsibilities like setting up technology at home and helping their children complete class assignments.

This huge undertaking has made families more in tune with what their child is learning. Districts and schools are also better at keeping communication lines open with families.

Istation not only provides learning platforms but also gives parents access to reporting and educational resources. These help improve instruction at home. These resources align with the curriculum being accessed by the students.
8. Differentiated learning – With virtual learning platforms, a teacher can meet their learners where they are. Each student in a classroom has a different learning style and is learning at a different level. Virtual learning platforms take differentiated learning up a notch.

While utilizing Istation programs, it may look like students are simply playing games. However, what is really happening is a structured approach to adaptive learning. This approach helps teachers differentiate instruction for students and tailor it to their individual needs. Assessments and instruction can be delivered while the student is at school or working virtually at home.
Proven Success with Virtual Learning Platforms
The North Carolina Cyber Academy has been achieving these types of benefits since 2014. Principal Micah Copeland knows how important it can be to utilize virtual platforms like Istation for his school's distance learners.
"Our parents and families have seen the value of all the data that Istation provides, because they are able to log in and access the platform," Copeland said. "That is empowering for them, and it also increases the motivation and engagement of students and parents."
Copeland recently discussed the benefits of the virtual learning model at his school in a recent podcast "Achieving Hands-On Learning in Distance-Environments."
Istation offers virtual learning platforms to aid teachers in progress monitoring, delivering instruction, and planning interventions. Click to learn more!