When educators at Jefferson Elementary School in Jerome, Idaho, wanted to improve overall reading success for students in kindergarten through 3rd grade, they decided to focus on the data Istation provided for one component of the Big Five: vocabulary.
Teachers started by running a baseline assessment of vocabulary skills using Istation's Indicators of Progress (ISIP™). Then they came together for weekly meetings to determine how to best address low vocabulary scores. Tapping research-based practices driven by data from the Istation platform, the teachers designed intervention lessons.
In just one school year, vocabulary scores for all four grades improved significantly. The percentage of 1st graders who were considered proficient in vocabulary grew from 28% to 48% from the beginning to the end of the school year, while 2nd grade's proficiency rose from 43% to 65%, 3rd grade's from 45% to 58%, and kindergarten's from 20% to 43%.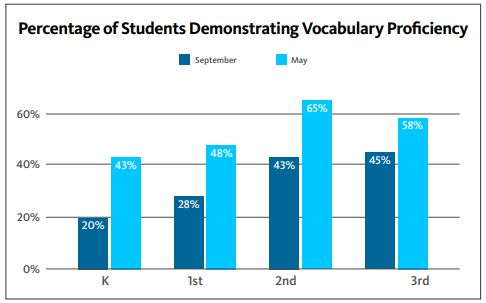 "Focusing on improving vocabulary proficiency scores schoolwide was important to the whole staff, and their collaboration around routines and strategies made a big difference for our students," said Angie Brulotte, Principal of Jefferson Elementary School.
Another critical component of reading instruction is assessment. Effective instruction should include assessments that address each area of the Big Five.
Check out the framework below that outlines using data and assessment.
Step 1: Collect
Data can be collected in different ways and at different times during the school year. Progress-monitoring assessments provide teachers with usable student data on the individual and/or classroom level. ISIP lets teachers establish baselines and track student growth throughout the year with assessments that are automatic and monthly.
Step 2: Measure
Assessments allow teachers to measure skill development and create the right intervention and instructional path for each student. Istation offers educators detailed reports that give insight on areas of progress as well as gaps where students need additional support. Measuring student progress drives classroom instruction and gives a clear picture of how teachers need to spend instructional time moving forward.
Step 3: Act
Put the data to use right away. Acting on the data gathered in a timely manner ensures the best results. Let data inform daily instructional strategies and drive small-group intervention. Istation's real-time reporting tools deliver personalized data profiles that can help teachers tailor instruction and intervention.
Download the white paper "Boost Outcomes with the Big Five" to learn more about using assessments to address areas of the Big Five.
Plus, join part 2 of Istation's Science of Reading: The Conversation, a dynamic three-part web series, on Friday, February 7, 2020, at 1:00 p.m. CT. Register today!