Today's four and five year olds have never known a world without laptops, smartphones, or tablets. If today's classroom is to represent the culture in which our children live, then it is necessary to appropriately integrate technology into the classroom. When balanced with other hands-on experiences, computer-based learning can be a valuable part of an early childhood classroom.
Tina Rutledge, pre-K teacher at Central Elementary School in Dallas ISD, is an educator who has changed and adjusted her instruction to meet the needs of children in the digital age. When students enter her classroom, they have not seen or practiced much in the way of early reading skills, and their language skills are limited. In fact, Rutledge shared that "most haven't had exposure to letters."
In the past, Rutledge's students have only had access to computers at school in the lab. Today, thanks to Donors Choose, every child in her class has access to a school laptop, a wireless mouse, and headphones. The students are improving with the technology skills on a daily basis. By the end of September, prekindergarteners have learned how to log on by themselves.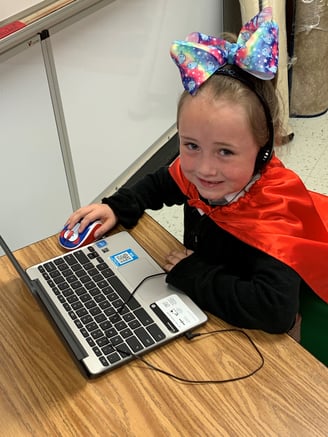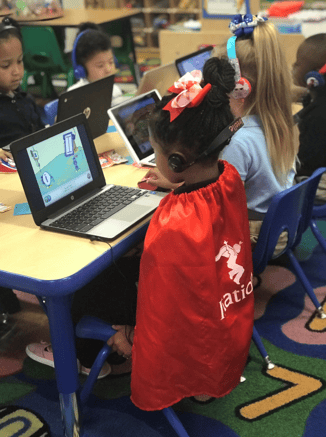 Students work on Istation in their classroom while wearing red capes.
As a result of Rutledge's passion for learning and knowledge of early childhood in conjunction with her commitment to the implementation of Istation, she consistently impacts student achievement. During the 2017-2018 school year, only 13% of her class was on track to meet end-of-year expectations, according to Istation's Indicators of Progress (ISIP™) assessment. By the end of that year, almost 100% of her class was on track.
Similarly in the 2018-2019 school year, only 36% of her class was on track to meet grade-level expectations, but by the end of the year, a total of 94% of her students met grade-level expectations. Many of those prekindergarten students got an overall ability score at or above 200, which is considered a 1st grade level.
One particular student fell into the 3rd percentile at the beginning of the year. They weren't receiving much academic support at home, but after consistently using Istation, that student became a super reader in the 99th percentile! Another of Rutledge's students started the year in the 5th percentile and later moved to the 95th percentile.
Students show off their spelling skills in a graffiti mural.
At Istation, we understand the needs of young children and strive to support educators and children so they can be successful. When I asked Rutledge what part of Istation is the most useful to her, she responded with, "The reports, especially the Student Summary Handout. I use it to plan and for parent conferences."
She also uses the Skill Growth Report and the ISIP Summary. She keeps a data sheet to record raw scores from the beginning of the year and each six-week period after that until the end of the year. She can look at each row and see where growth is happening.
"You never know when they are going to move, " said Rutledge said.
One student's portfolio sheet details growth shown on Istation's reports.
The Student Summary Handout is especially powerful because Rutledge can track growth with her students monthly from September to May. Teachers at Central use Istation's data to create a bulletin board in the school's hallway showing off each grade level's growth throughout the year.
Central Elementary School's hallway data board shows how many students are in each percentile per class and grade level.
While her students work within the programs, they are encouraged to clap, sing along, and talk about their learning. When asked if there was a particular skill that Istation was exceptionally helpful with, Rutledge said vocabulary development, letter knowledge, and specifically, letter-sound correspondence.
Within Istation, skills are taught through songs, games, and many interactive activities that not only keep children engaged but also make learning exciting and just plain fun.
"Kids have tons of [usage] minutes because the kids want to be on Istation," Rutledge said. "All of the activities have an educational purpose and intent of learning."
While young children are meant to have fun and enjoy the programs created with them in mind, the goal is to make sure their time with computer-based learning is worthwhile.