Enhance Learner Motivation with Next-Generation Assessment Design and Technology-Enhanced Items
Future-focused educators are using educational technology more than ever to increase learner engagement, provide better learning experiences, and assess content knowledge with increased depth and accuracy. Research suggests that educational technology — when used well — has the potential to drive equity in learning opportunities for students and is linked to improved learning outcomes (Mohammed, 2019).
In the last decade, education research, policy, and practice have encouraged educators and students to move into a new era of teaching and learning, one that values a broader, richer set of cognitive, digital, and social and emotional skills.
Valid and reliable measurement of next-generation learning requires designing next-generation assessments and reimagining the ways in which students demonstrate what they know, understand, and can do relative to the content they have learned.
Technology-enhanced items (TEIs), one component of next-generation assessment design, play an integral role in providing educators with ways to enhance the learning and assessment experiences of students. Let's explore the design of TEIs, the purpose they serve in the learning process, and the benefits for students and educators.
Technology-Enhanced Items Provide Long-Lasting Purpose and Benefits for Learners
What are TEIs?
TEIs are digital items that include specialized interactions for collecting student response data beyond the multiple choice and constructed responses of traditional paper-pencil learning tasks and assessments. TEIs are delivered through computer-based instructional tasks and next-generation assessments. These items have been intentionally designed to encourage students to construct an answer as opposed to merely selecting a response, requiring students to activate their critical-thinking skills and actively engage to demonstrate what they have learned.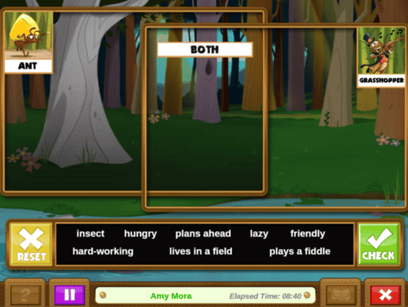 What purpose do TEIs serve?
The overarching purpose of TEIs is to provide students with digital interactions similar to real-world contexts, such as…
text highlights and annotations as those used with authentic reading materials;
math equation editors that allow students to construct a response rather than make a selection;
interactive elements that simulate real-world science experiments; and
interactive multimedia sources to replicate use of maps, graphics, and visual representations of content.
What are the benefits of TEIs for students and educators?
Next-generation assessments and TEIs are relatively new on the K-12 educational scene, and researchers continue to collect information on their impacts and outcomes. However, early evidence suggests TEIs can accomplish many things that benefit both students and educators, including…
better engaging and motivating students through authentic, real-world contexts;
promoting critical thinking and problem solving to demonstrate depth of knowledge;
capturing higher-order cognitive skills not assessed on traditional assessments;
providing greater accessibility for students with disabilities through assistive technologies built into the platform;
improving assessment validity by broadening the types of learning assessed.
increasing the efficacy of automated scoring and feedback;
providing educator access to timely, data-driven learning insights to inform next steps; and
delivering actionable feedback for students and educators to accelerate learning.
As educational leaders become more familiar with digital assessment literacy and TEIs, students and educators will both benefit. Learn more about building TEI proficiency with our on-demand webinar "Strategies for Using TEIs to Improve Student Engagement." Discover how Istation is increasing assessment validity with next-generation TEIs.