After using Istation Reading for its progress-monitoring tools and instructional practice, charter school Sage International School of Boise saw a decrease in intervention needs of almost 50% in just 7 months.
Dee Dee Germino, RTI Specialist at Sage Int'l, said, "Istation has provided informative data that has become a tool for differentiation in the classroom. As a reading specialist, I have grouped our intervention students accordingly based on this data. For our new teachers as well as seasoned teachers, it has been a valuable resource to enhance lesson planning and instruction." This is something that the school wasn't able to do before implementing Istation.
Istation's Tier Movement Report in August 2016 showed 46 Sage students (11%) in Tier 3. In February the report showed that the number dropped to 26 students (8%) in Tier 3. The school is using Istation just the way it should in order to see greater academic student gains in the classroom. Which, in turn, requires less time for intervention with the teacher.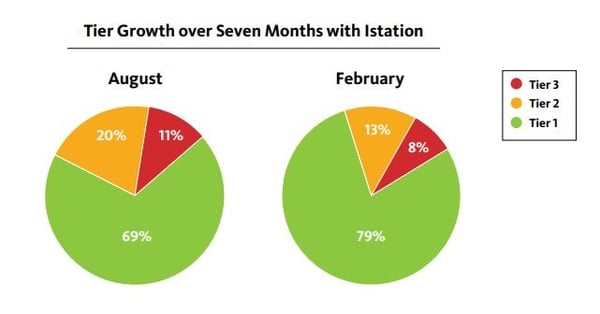 "When I noticed their performance, I went ahead and asked [Germino] a few questions," said Sam Rangel, an Istation executive.
Sage mainly uses Istation for grades K-5. Students in K-3 spend over an hour per week on Istation; 4th and 5th grade students who need intervention spend the same amount of time using the program. In the middle school grades it changes a little. Only those students needing RTI services in grades 6-8 use Istation on a regular basis. Students at the middle school level who do not require RTI services don't use Istation at all.
When asked what were the three most important benefits Sage received when working with Rangel and Istation, Germino said, "Students have the opportunity to apply and enhance their reading and math skills while using a very innovative, interactive, effective computer program. Students look forward to their time with Istation each week."
Germino loves that students are experiencing Istation's interactive activities that target each individual need. The interactive curriculum is set up so that foundational skills have to be mastered before moving on to the next level of instruction.
"In the classroom, oftentimes students who have not grasped the foundational skills tend to slip behind," Germino said. "Our goal as teachers here at Sage [is to] strive for proficiency across all grade levels. Istation has moved us in this direction."
Read the whole case study here: