In a normal school year, teaching English learners (ELs) comes with its own set of unique challenges. Now with students learning at home, in school, or a combination of both, EL educators must stay focused on student growth yet remain flexible enough to meet evolving needs.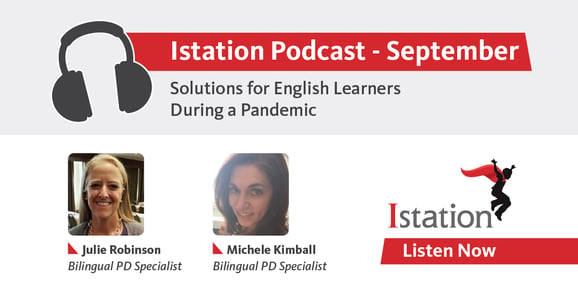 Tune in to this insightful podcast with Istation's Julie Robinson and Michele Kimball, both former educators and now professional development experts, to learn about solutions that are effective, research-based, and proven to drive academic success despite unpredictable circumstances.
The podcast explores communication strategies, remote learning hurdles, progress monitoring tools, and more! Listen to learn…
how to give EL students a clear picture of what's expected from them;
how to perform check-ins with students that allow for feedback and flexibility, both in-person and remotely; and
how to achieve results by using a data-driven approach.
Want to take the next step? Learning more about robust, actionable data that helps pinpoint where students struggle is key for intervention that works. Our free white paper "Driving Growth for English Learners" explores how to use data that prescribes critical intervention and helps educators understand how to differentiate instruction with blended learning for EL and biliteracy students.