Take Teachers From Tech Users to Tech Experts
Over the past two years, the entire world has had to adapt as we have faced the challenges brought on by the pandemic. As a true show of resilience, administrators, teachers, and students tackled online learning with excellence. We've uncovered an entirely new meaning of the twenty-first-century classroom.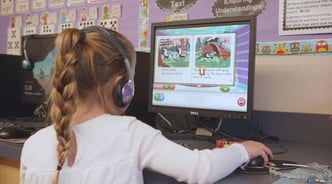 The use of technology in schools is vital for producing students who are ready to thrive in the digital age. A few of the many benefits of integrating and using technology to its fullest potential are…
increasing student engagement by making learning fun;
differentiating instruction to meet diverse learning needs; and
fostering culturally relevant experiences for students.
As a school leader, if you are looking for the best place to start helping your school's teachers become experts with the tech tools they have on hand, you're in the right place! It is easier than you think to develop tech-savvy educators. Following the three steps below can modernize any pedagogy!
3 Steps to Use Tech Tools to Their Full Potential
Step 1: Take inventory of technology.
The first step in successfully using tech tools to their fullest potential in every classroom is surveying what tools your teachers are able to use.
Cell Phones, Tablets, and Computers: Smartphones are the most underutilized resource in education. We use them to text and call each other, but they are capable of so much more. Principals and other school leaders can support their teaching staff by advising them on how to research educational apps and websites and encouraging teachers to use these in their classrooms. This will modernize your teachers' lessons whether they have just one cell phone, a class set of tablets or computers, or even just a few computers for small groups to use.
Educators can find digital learning tools related to a certain topic just by doing a quick search online. Or to find a content-specific app for phones or tablets, search relevant keywords in the device's app store. This method does require some background research, but once teachers start finding what works for their students and compiling a list, they won't have any regrets!
Assessment Apps, Programs, and Websites: Digital assessments are a game changer for student engagement. There are tons of free websites out there that allow teachers to create quick and easy assessments that resemble a gameshow experience. If your teachers don't have access to a class set of devices, they can try apps like Plickers, which requires only one teacher device.
Istation offers an online assessment tool for reading, math, and Spanish literacy. It measures students' skill ability in 30 minutes or less. Teachers get instant feedback in ready-to-use data reports. These can be shared with school leaders, district administrators, and even the students' families.
Integrating digital tools for assessments takes the fear and anxiety out of testing for students. It makes learning fun while still supplying useful student data to the educator.
School- or District-Specific Technology: While anyone can access free learning materials, there is a high chance that teachers have access to additional programs through their school, which they may not be using to their fullest potential.
Does your district pay for any subscriptions to digital learning software? If so, are your teachers aware of these programs? Are they using them often and effectively in the classroom?
Digital learning software is incredible for differentiating instruction to meet students' needs, track progress, and monitor student data.
Administrators may also know about underutilized resource and supply rooms that are stocked with awesome technology. From robots and coding programs to additional class sets of tablets, there is so much potential to be found! Make sure to communicate with teachers about the best way to check out or learn more about the technology at hand.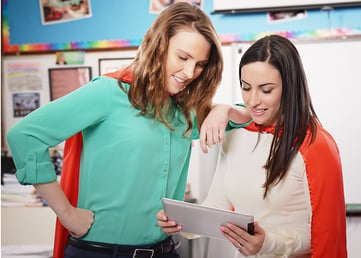 Step 2: Plan Strategically.
Once staff knows what resources they have access to, they will be ready to implement them in their curriculum.
The easiest way to get started with technology is to use it in ways that feel comfortable. Don't feel the need to rearrange an entire classroom to fit in technology. Are your teachers already implementing center rotations for reading and math? Encourage them to make one center a technology station.
Do your teachers have a process for gathering student assessment data? Have them try administering a Kahoot which will quiz students in a game-like format. Planning to integrate technology doesn't have to be dramatic or scary. Educators should start small and grow from there.
Just like any other aspect of teaching, educators should hold students accountable when using technology. They should put systems in place to monitor students' efforts and successes. Does the program collect data automatically? Are teachers setting goals and criteria for students before sending them to their devices? Will teachers make time to review results with students when assessments are finished? These are all things to consider when planning accountability for technology.
As lifelong learners, teachers are committed to continuous professional development (PD). As mentioned before, most districts provide access to technology resources. Many districts also provide PD opportunities for educators to learn how to use their tech programs to their fullest potential. Check with your district representatives to see what PD opportunities you can bring to your school.
Step 3: Evaluate Often.
It is important that teachers don't use technology merely for the sake of using technology. The programs teachers implement should be intentional, effective, and data-driven. There are a few things to consider when reflecting on technology use:
Are teachers seeing skill growth through data?
When implementing technology, what is and is not working?
How can teachers take instruction to the next level?
The evaluation process should happen daily to prevent bad habits with tech tools from developing. Teachers should be able to prove skill growth is happening with the data provided by their implemented programs. Students and teachers can come together to set goals and review progress on a regular basis.
Think about what works for one teacher and how that can be shared with others. If something isn't working, how can it be adjusted? For example, would an assignment be more effective as group work rather than individual work? Invite teachers to continuously reflect on how to best meet their students' unique needs.
If a program has proven to be effective with students at your school, consider reaching out to the program's contact person to see if they can offer PD for your staff or send a representative to join planning meetings.
With these simple steps, schools can completely transform the use of their digital tools. Students will be engaged in their learning while educators will take pride in knowing they are making the most of what's available to them in the classroom.
To continue building a culture of continuous teacher improvement in your district, learn more here.