Istation is proud to announce a new resource available within our Interactive User's Guide. The all-new ISIP™ Oral Reading Fluency How-To Guide behind the login walks you through everything you need to know related to access, administration, scoring, and interpreting results for ISIP Oral Reading Fluency (ORF)!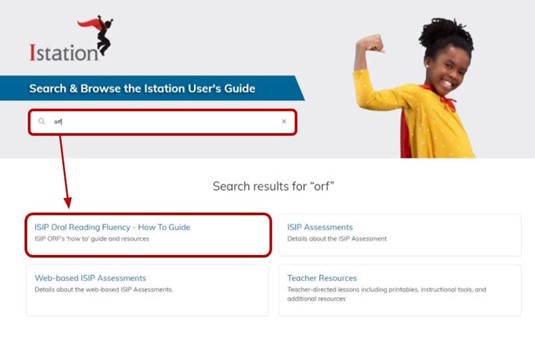 How to get there: Visit the Istation User's Guide and search keywords surrounding ORF to pull up the ISIP ORF How-To Guide.
Istation's digital oral reading fluency assessment is the latest time-saving educational technology from Istation. Powered by voice recognition and AI, ISIP ORF allows teachers to automatically measure oral reading fluency from digitally recorded passages for students in grades K through 5 in both English and Spanish.
Visit the page to learn more about:
General ORF information – Learn what ORF is and how it works. Discover why it's used as a screener and progress-monitoring tool as well as how long it will take for your students to complete the assessment.
Technical Requirements – Learn which operating systems and browsers are supported with ORF. Find out what type of equipment is needed to record students' reading passages.
How to Access ISIP ORF – Discover what students and teachers need to do to access ORF. We have created access guides that explain step-by-step what to do when using the ISIP ORF as students or logging in to our web portal as teachers.
Auto-Scoring vs Manual-Scoring – Read about the different steps related to scoring manually or automatically, depending on which option is available to you. Auto-scoring is currently available for grades 2 and 3 in English but is still in development for all other grades and ISIP ORF in Spanish.
How ORF Results Are Reported – Learn how to interpret ORF scores and how our norming process works.
In addition to the above, this article also discusses the following:
On-Demand Assessment (ODA) – This feature located on the left side of the Classroom page allows you to assign additional ISIP ORF assessments to students. If a student needs to be reassessed in ORF for any reason, a new passage will be given once an ODA is assigned.
ORF Videos – We have a number of videos surrounding ORF from the student experience to the teacher experience, in both English and Spanish. See an example here:
ORF Printable Resources – We have a number of printable resources available in both English and Spanish. See a few examples here:
Click the button below for all the details!