A recent study shows Istation "to be an effective tool to contribute to students' improved academic reading achievement," and using the Istation curriculum helps narrow achievement gaps.
A peer-reviewed article in The Journal of At-Risk Issues details a study about the impact of technology on narrowing the gap for at-risk readers. Researchers from the Morgridge International Reading Center (MIRC) at the University of Central Florida published this study on the influence of Istation on 3rd grade students' reading skills in one large southeastern state.
The study was guided by the research question "Do third-grade students' reading achievement scores change over the school year depending on their achievement level (above and below the 20th percentile) and their computer-adaptive reading program usage when considering gender and socioeconomic status?"
In the study, Istation considered students' individual needs, provided continuous progress monitoring, and helped teachers with differential instructional planning information. This research with at-risk students is important because reading is the foundation of academic success, and statistics from 2017 showed 37% of 4th-grade students performed at or above the proficient level on the national assessment of educational progress in reading. Students lacking foundational reading skills and not receiving appropriate intervention will continue to remain behind their peers.
With effective classroom reading instruction, a student can catch up despite risk factors; however, a "one-size-fits-all" method is unlikely to work. With Istation, teachers can monitor students' reading proficiency levels as well as gain insights on students' strengths and areas that need improvement.
Using Istation's Indicators of Progress Early Reading (ISIP™ ER) as a benchmark, the researchers collected data points from the beginning, middle, and end of the 2016-2017 school year. They then compared students who used the Istation curriculum at school and home to those who did not use Istation.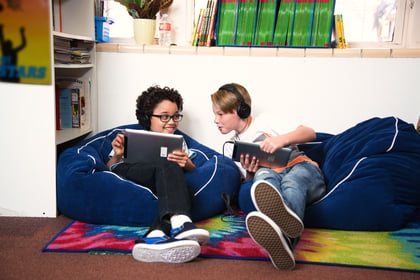 Students at or below the 20th percentile in reading who used Istation curriculum at school and at home made over 30% greater gains compared to students above the 20th percentile on their ISIP ER end-of-year score and exceeded the normed expectations for their level. Students at or below the 20th percentile who used Istation at home for more than 2,700 minutes that year (approximately 90 minutes per week) made the greatest gains, and male students at or below the 20th percentile who used Istation at home for more than 900 minutes (approximately 30 minutes per week) made gains of almost 27 points by the end of the year.
Read the entire study by visiting Istation's studies page at the link below.