Istation Launches ISIP™ Rapid Automatized Naming Digital Assessment
On September 1, 2021, Istation will begin standardizing its newest assessment, ISIP Rapid Automatized Naming (RAN) for K-3 students in English and Spanish. Leveraging recording technology, this digital assessment makes it possible to quickly and easily measure students' processing speed, an important early indicator for reading difficulties such as dyslexia.
A RAN test is the simplest form of a reading assessment students can take. Studies have found a significant relationship between faster RAN performance and stronger reading ability, making this test one of the best predictors of reading ability.
ISIP RAN offers educators and students:
a digital assessment using recording technology for grades K-3;
an assessment that includes pictures, numbers, and letters subtests;
a digital scoring interface with playback controls; and
an online archive for educators to refer to for scoring.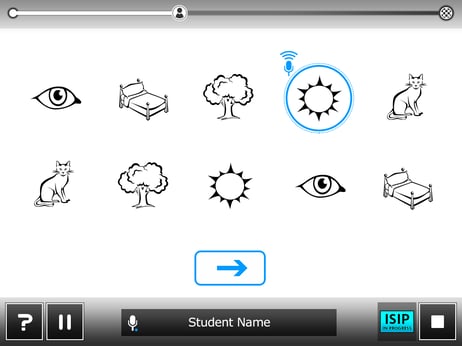 Stimuli card for pictures subtest. (Kindergarten students only receive the pictures subtest.)
Istation Customers: Learn more about the RAN study.
Benefits of Participating in Istation's RAN Study
Istation is excited to work with districts across the nation to collect data from the new RAN assessment during the 2021-2022 school year. This study is open to those who have a subscription to ISIP Early Reading and/or ISIP Lectura Temprana. The RAN icon will appear for all students in kindergarten through 3rd grade and is available for all subscribers, regardless of participation in the study.
Districts that choose to participate in the study will administer beginning-, middle-, and end-of-year assessments and provide demographic data so that Istation can calculate grade-level norms and corresponding percentiles.
Check out these 3 benefits of participating in the RAN study!
1. Discover a new opportunity to save your teachers time. RAN tests can tell administrators, teachers, and parents a lot about students' reading abilities in a short amount of time. Each RAN subtest takes one minute for students to complete. Students will continue naming items until they finish or until time runs out. Overall, the assessment takes 5-7 minutes and does not require teacher supervision to administer.
2. Implement a cutting-edge assessment tool to help identify students at risk for reading difficulties. The purpose of a RAN test is not to measure a student's vocabulary skills or whether they know the names of all letters and numbers. The real purpose is to measure students' fluency or automaticity. Students who struggle with reading difficulties such as dyslexia typically perform more slowly with rapid naming tasks because they lack phonemic awareness and fluency skills. RAN tests can be a strong identification tool for students with dyslexia.
3. Access new assessment data to develop a more purposeful instructional intervention strategy. Often referred to as a "check engine light," RAN helps alert educators when something is wrong or missing in a students' skill development. Administering a RAN test at the beginning of the year can help your educators identify where a student is lacking foundational reading skills. This in turn plays a key role in determining which interventions and instruction are needed.
Istation customers, click here to participate in the study!