With several different ability levels and needs in your classrooms, it can be hard to find the right balance between following the curriculum and giving students their own personalized attention. Sandy Smith, Istation's Early Reading Certified Scrum Product Owner, discusses strategies for educators to use that will benefit each student and create a ripple effect for personalized education in the classroom.
It all starts with data.
At times data can be overwhelming and hard to break down, but it is a necessary piece to knowing where to start for differentiated learning in your classroom. Knowing where each student is performing helps us see the big picture. We can move from assessing to grouping.
In the podcast, Smith says she realized early on in her teaching career that pulling small groups was the only way to make sure all students in her class were getting what they needed. She goes on to explain that it's important to remember to group students by need rather than ability level.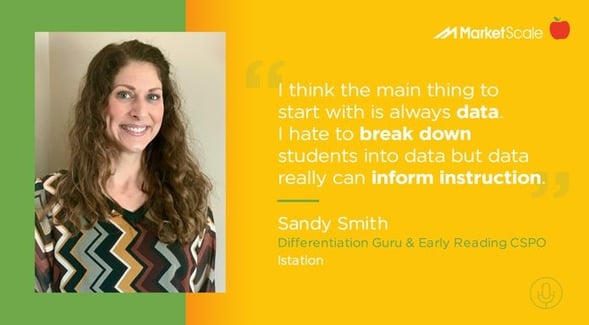 "You definitely need to look at the groups in terms of needs and not necessarily in terms of students, but what their needs are for that particular time or that particular lesson or skill, and then address those needs, like I said, more intentionally and focused in the small-group instruction setting," Smith says.
Small groups should remain flexible so that students aren't in one group for an entire year. Grouping by need will allow you to work on specific skills students are struggling with. When students master that skill, they are able to move on to another small group and work on other skills they are struggling with.
Listen to the podcast as Smith explains how this personalized approach to small groups can provide differentiation for all in your classroom.