Engage Middle School Learners with Authenticity
There are many ways to engage adolescent learners. The key to them all is authenticity. By creating authentic learning experiences and being genuine during interactions with students, teachers can engage middle school learners and more effectively teach them.
This two-part blog series will dive into what authenticity looks like in the middle school classroom, present ways to create authentic learning experiences, and provide insight into what it means to engage learners in one of the most transitional periods of their lives.
Build Authenticity into Middle School Learning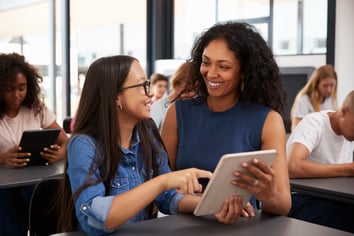 If you are a middle school teacher, you have probably tried out one or more of the tips below. You know how difficult it can be to grab the attention of your middle school learners, but don't let the task at hand discourage you. Engaging middle schoolers can be fun and fulfilling at the same time.
1. Build meaningful relationships with your students.
Working to cultivate relationships with your middle school students requires a delicate balance of structure, freedom, and emotional support. Students are only human, with highs and lows, things that scare them, and hopes and dreams just like anyone else.
Take time to figure out what your students love, why they think the way they do, and what motivates them. This gives you insights into how to authentically engage them in the learning process. If you come off as insincere, students will sense this and shut you out.
Ask students what they love and why. Ask sincere questions, and then use what you learn to guide your selection of stories, novels, activities, and more.
2. Be authentic in your interactions with students.
The very first lesson I was ever taught on how to be a great teacher was to never try and stretch the truth to kids. First, it sets a bad example. Second, they can spot a lie from a mile away.
Middle school students can tell if you aren't being honest with them, and this colors their opinions of you as a teacher. No, the goal isn't for every student to want to be your friend, but building relationships with anyone, especially those you have authority over, must start with trust.
Students are asked to trust that teachers have their best interests in mind, and by the time they've entered middle school, many have experienced teachers who did not. What that means for teachers — or anyone interacting with middle schoolers — is that the onus of proving trustworthiness is on you. Cultivate credibility with your students by being your authentic self.
3. Admit when you don't know something.
As an educator, it's important to demonstrate sincerity when you don't know something. Not knowing something can turn into a great learning opportunity for everyone.
Most middle school students don't think that teachers are all-knowing. So instead of making up or guessing an answer to a question, work with students to find an accurate answer. It's a great time to demonstrate inquiry, research, and critical thinking with students. Rather than ending a conversation with a guess, you can engage students in an investigation of the topic. Students are more motivated to learn when they can research what they want.
4. Learn to recognize biases.
Learning to recognize your own biases takes critical self-evaluation — a crucial skill when working with students whose experiences differ from your own.
If you find yourself feeling a certain way about a student, stop and think about why. Try to empathize with that student. Talk to students to get to know them better. This can resolve conflict with disruptive students in the classroom because they see you are interested in knowing them.
Find ways to work on and overcome your preconceived notions.
Remember that being authentic will take you far with your middle school learners. Trust yourself and know that mistakes will be part of the process. Watch students move from disruptive and disengaged to helpful and engaged purely based on how you interact with them.