Note: This is Part Two of the "2+2=Success" blog, with longtime educators sharing their formula for a successful start to the school year.
My colleague, Joyce, gave you her two cents yesterday, so now it's my time to share! She suggested exercising your mind and body to get in back-to-school shape. I suggest getting connected and formulating a plan.
1. Educators need to be connected. Good teaching has always been a team sport and what better way to team up with others than by having a social, collaborative and professional learning network of peers that are also relaxed, refreshed, and full of new ideas.
I joined Facebook several years ago to reconnect with college friends that I had been missing for years. Now, I see family members, friends, and special events and feel closer to my "peeps" than ever. I can also keep up with educational trends and current events. I was a little slower to join Twitter, just because I was not as comfortable with hashtags. But, this summer I realized how much information I was really missing. Just a quick aside, Istation shares great ideas and stories on
Facebook
and
Twitter
. Now, confession time...I spend way too much time on Pinterest! Thank goodness I found the secret boards so that others cannot see how much time I really spend. There are so many good ideas on Pinterest! There's no need to reinvent the wheel when you can use suggestions from another teacher!
2. Educators need a plan. This is your first line of defense as school starts. This plan must be adaptable because things will constantly change. An article I found on Pinterest, Eight Things that Should be at the Top of Teachers' To-DO Lists for the Beginning of the Year, helps with the back to school frame of mind. One of the author's eight suggestions is building a rapport with parents.
I love this next idea, also found on Pinterest, to help build that school-to-home connection! Instead of just writing your contact information on the board during Parent's Night or sending it home in your first newsletter, this teacher makes magnets. Parents can keep them on their refrigerator! You can order them, or print your contact information yourself and use self-adhesive magnets. Here are some suggestions from Pinterest: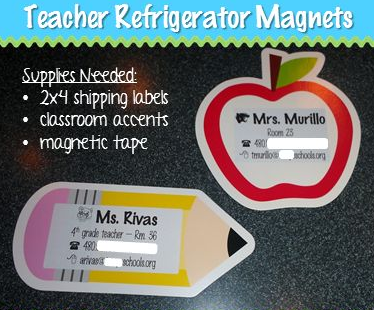 Of course, one of the most time-consuming parts of creating your plan will be lesson planning for the first few weeks of school. When I first started teaching, I pulled resources from any place that I could find them. But then my school started using Istation. The priority report drove me directly to lesson plans that helped me know exactly where students were struggling. This helped me create a plan to start the school year. Also, there is a great new search feature in the Teacher Resources that allows you to filter through thousands of resources. If your students have already used Istation in the past, you are ready to hit the ground running. If your students have not used Istation, but will be using it this year, after the first quick assessment, you will have the same valuable information.
Now, back to 2+2=success. My colleague Joyce and I think the best path to a successful school year is to exercise your body and mind and also connect and plan. Get ready for bumps in the road, but try to enjoy the ride!