As Istation celebrates its 20th anniversary, we happily opened our doors to the digital media class of 2020 from H. Grady Spruce High School CTE Early College program. The students were accompanied by their digital media instructor, Sydnie Montgomery, and had the unique opportunity to see how the skills they are learning at school are being used at Istation everyday.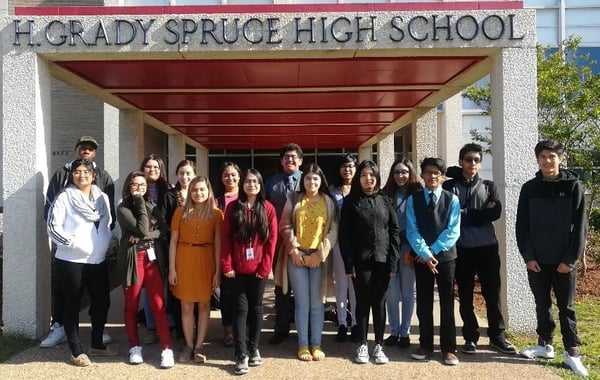 Students from Spruce High School's digital media class pose before a trip to Istation.
The students from Spruce expressed feelings of awe as they stepped off the elevator into Istation's lobby, where they were greeted by the familiar faces of the Istation characters. Some of the students even called out the names of their childhood learning partners. Then Vice President of Professional Development Lori Lynch and members of the Professional Development team greeted the students as they gathered in the 19th-floor reception area. The students were divided into three groups for a day of career exploration. The plan for the day included visits to different departments that best aligned with career possibilities related to the students' course of study. The visit helped the students from Spruce look beyond classroom experiences to real-life career options.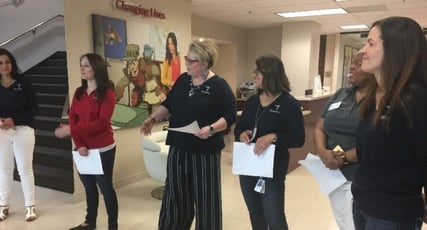 VP of Professional Development Lori Lynch (third from left) and her team greet Spruce students at Istation's headquarters.
Sound! Action!
Audio Engineering was one of the departments on the tour. The students learned how sound is added to animation and had the chance to give the characters life through their own voices. In the sound booth, each student read from a script to make his or her character come to life. After recording their characters' voices, they witnessed the final product of merging their voices to an animated scene. This new experience illuminated another career option that was unknown to many of these students before coming to Istation.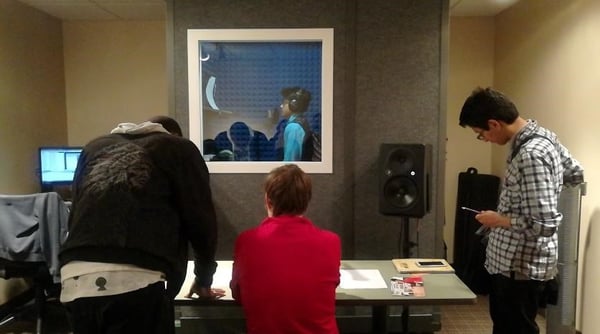 Spruce High School students take turns in the sound booth at Istation.
Fish Bowl Magic
The students walked down halls that display Istation characters in various settings on storyboards in both English and Spanish. They called out the names of familiar characters like Justin Time and Amelia Chameleon on their journey to the "Fish Bowl," where the Interactive team members work. This team of animators, programmers, and graphic artists creates the final Istation projects that eventually become part of the different curriculum additions. What seems so effortless and easy was demonstrated and explained in detail, which created an atmosphere of curiosity and many questions. One of the students said, "It was a little like making magic!"
Meeting the CEO
After visiting with the interactive team, the students made a short detour to the office of Dick Collins, Istation's CEO, who took time to share with the group a little history of Dallas, pointing out the city's skyline from his office window. He gave each student the opportunity to sit at his desk, encouraged them to complete their course of study, and invited them all to come back and work at Istation someday.
Blogs, Facebook, and Communication
After an enlightening visit with Mr. Collins, students next visited with the Marketing team. They learned that this team helps communicate Istation's message to a community of educational leaders. Istation's marketing teamincludes a social media specialist, digital content specialist, graphic designer, illustrator, videographer, event coordinator, and marketing director. The students found out that marketing does several different tasks at Istation, from writing daily blogs to setting up conferences.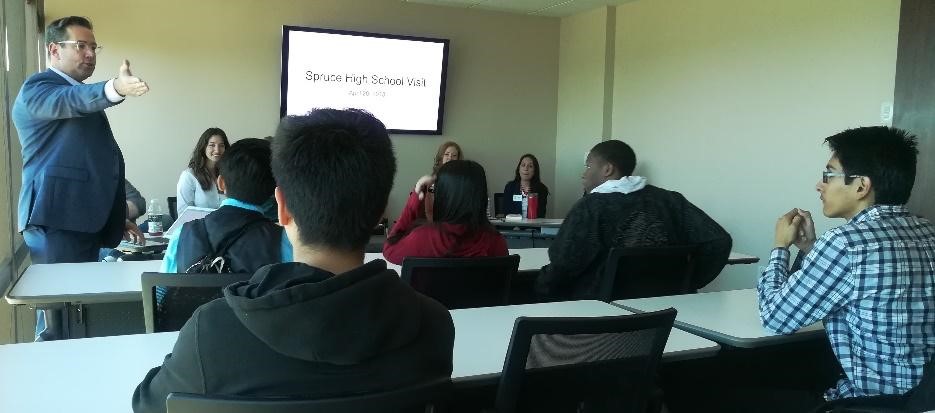 Kevin Sharpe, Istation's Senior Director of Marketing, tells Spruce students about the various parts of the Marketing team and their tasks.
The Finale
The final stop of the day was when the students assembled for a time of encouragement and Q & A. This session was led by VP of Special Projects Jeremy Roden, who brought together a panel of Istation employees who have successfully completed community college pathways. They shared their real-life successes and struggles with the Spruce students, all ending with words of encouragement. The students asked questions and were given sage advice.

VP of Special Projects Jeremy Roden (left) brought together Istation employees to share their experiences with students.
It was a good day for the Spruce students and for Istation.
...
Professional Development Specialist Toni Montgomery started working at Istation in 2015. Prior to joining the Istation family, she worked in education in various capacities for 41 years, starting as a classroom teacher and eventually working as the Coordinator of Response to Intervention for the Dallas Independent School District. Toni believes all children deserve an engaging learning environment that fosters growth with limitless options. She and her family live in the Dallas area.
Interested in writing for Istation's blog? Submit your story to RedCapeNation@istation.com.