Give Attention to Detail
Floyd Haynes, the Title I Instructional Coach at Kerr Middle School, uses Istation's session details to check how long students spend on each ISIP™ question before answering. He looks for rushed responses, which indicate when a student has spent just one second on a question.
Haynes knows that it takes at least 10 seconds to read the question and understand what it is asking. So paying attention to the time it takes students to answer a question can tell an administrator many things about the student's benchmark habits. Was the student focused? Were they rushing to finish quickly? Were they distracted that day?
With this routine, Haynes is holding students accountable for their ISIP scores. For the students who aren't spending enough time on answering each question, Haynes invites them to his classroom. There they spend time talking about the importance of the monthly assessment, and he lets them take an on-demand assessment to redeem their results.
Lunchtime Rewards
While middle schoolers may be notorious for their lack of interest in school, Haynes has found a way to motivate his students so that they will slow down and do their best on Istation's monthly assessment.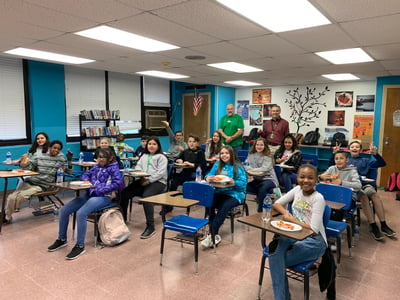 6th graders enjoy pizza at Kerr Middle School.
At the end of each month, Haynes breaks down ISIP scores by grade level using the Summary Report to identify the classroom in each grade that achieved the most growth. Then each of those high-achieving classrooms is treated to a pizza party.
"We have used everything from popcorn to pizza to motivate our students to do well on Istation," Haynes told me. "Friday I will be doing pizza parties in each grade level classroom that showed the most continuous growth through their February assessment."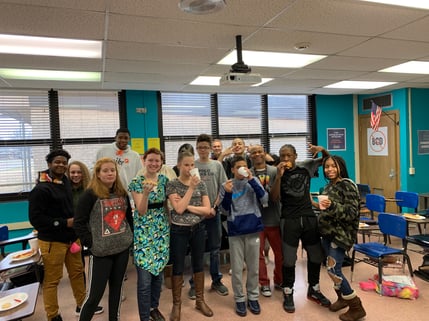 Kerr Middle School 8th graders smile together at their class pizza party.
When students see another class enjoying pizza in their classroom, he explained, they want to be a part of that. They are beginning to realize that every score matters, and each student in the class must do their best to get the party.
It's Kerr Middle School's second year with Istation, and the staff have noticed the difference it is making in students' scores. With the pizza parties working so well, they plan to reward classrooms with the most growth in ISIP Math as well!
Want to learn more about Istation's session summary and activity detail? Make sure you are logged in to your Istation account, and then click the link below. Find step-by-step directions that explain how to find student session details after each Istation assessment.