Today we highlight our third and final winner of the 2018 Istation Red Cape Moment Contest. We are proud to announce Cherokee Elementary School in Memphis, Tennessee, as a winner!
Leslie Garrison, a pre-K teacher at Cherokee, shares how her classroom celebrates student progress, monitors data results, and uses Istation resources for intervention lessons.
Celebrating Growth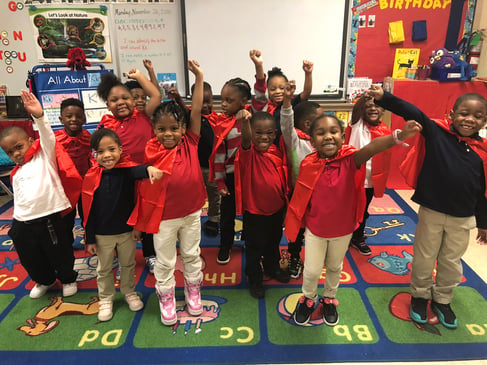 Leslie Garrison's pre-K students pose in their Istation red capes.
From the beginning of the year, Garrison's students are aware of her goal for them. She encourages them to reach Tier 1 in Istation by the end of the year.
"I have discussed the importance of staying on task, doing their best, and showing what they know," Garrison said.
When a student in Garrison's class reaches Tier 1, their name is entered into a raffle and they receive $100 in classroom chief bucks. Chief bucks can be used to buy items at the class store. Additional prizes are raffled off each month to winning students.
The student with the most growth gets to wear an Istation red cape for the day and have their picture displayed on the data board. Being the top student for the month also earns them more chief bucks, a certificate of recognition, and a larger classroom prize from the teacher. The students help motivate each other to reach Tier 1 and show monthly growth.
Approachable Data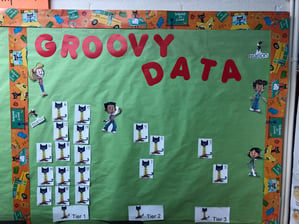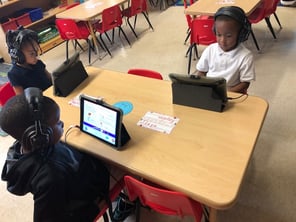 The classroom's data board highlights student growth. Students work on Istation during center time.
Garrison uses a themed bulletin board to track students' data each month. Students each receive a number during the year, and that number represents them on the board above Tier 1, Tier 2, or Tier 3.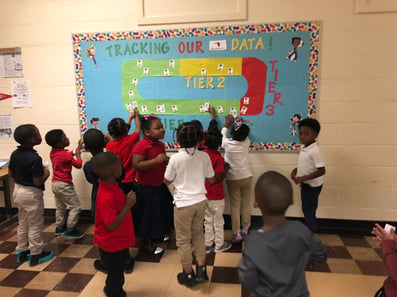 Student put their numbers on the hallway data board.
Garrison likes to display data results inside and outside her classroom. She finds that this makes it approachable and familiar to her students, their families, and her colleagues.
"If anyone has a question about student data, I can go into detail by viewing the student data folder," Garrison said. "Data is always approachable and quick to access when needed."
Student data folders help Garrison keep track of each student's Istation results and growth.
Garrison and her teaching assistant go through Istation's reports and find where each child is struggling and needs the most help. They share the responsibility of preparing lessons that support each student's learning to ensure that the student masters the skill. Garrison mentioned that she likes how Istation's reports show the entire question and answer choices alongside the student's answers.
Daily Intervention Resources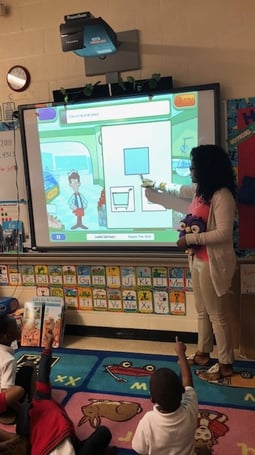 Garrison models working on math activities.
Garrison uses Istation lessons in her small and whole groups. Modeling is huge for early learners, so Garrison models what she wants her students to do, and then she gives them a chance to get into groups or go to learning centers to complete the activity independently.
"Students enjoy the different activities that align with the skills taught," she told us.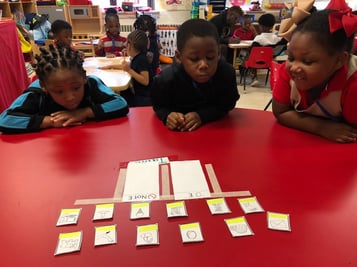 Students work with the letter e in a learning center.
In the photo above, students participate in a fun activity, identifying whether the name of an object begins with the letter e. Garrison makes this activity a little more challenging by covering the words with paper. It helps students with vocabulary and letter knowledge.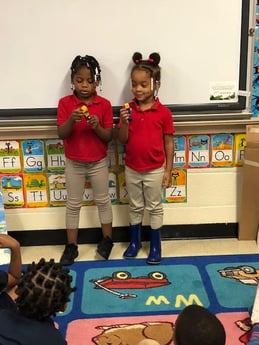 Students work in pairs to break snap-cubes apart to determine which hand is holding more.
We could not be more proud of our winners from the 2018 Istation Red Cape Moment Contest! Stay tuned to hear about future contests for this school year.
Keep up with the latest in educational technology, classroom best practices, and Istation's community of educators by subscribing to the blog. Get monthly, weekly, or daily updates to stay informed. Subscribe at the top of any page!