Istation is excited to be a platinum sponsor of District Administration's Districts of Distinction program and highlight the honorees in the social-emotional learning category.
Trussville City Schools in Alabama combatted increased mental health issues as well as bullying on social media by implementing a completely free program in their school district where teachers model positive behavior and encourage a positive character skill each month. The P.A.C.E. program, "Positive Attitudes Change Everything," helps restore self-esteem and reinforces personal and digital citizenship skills for students. As a result of the program, discipline issues have diminished, and students have learned to self-correct.
Pennsylvania's Bensalem Township School District made students' social and emotional needs a top priority. Educators are better equipped to understand how emotions directly impact learning for their students. Younger students learn mindfulness practices and how to self-regulate their emotions while upper grades collaborate to develop empathy. The district's director of secondary curriculum and instruction said that this initiative is a culture-changer, and the impacts have been overwhelmingly positive.
Educators in Washington state's Steilacoom Historical School District developed a three-tiered intervention system focusing on resiliency to promote mental health and well-being among students. They now have a multisensory spaced called the Otter Zone, in which students receive support with brain breaks and small-group instruction. The Otter Zone has helped students benefit more from learning opportunities and improve their readiness to learn.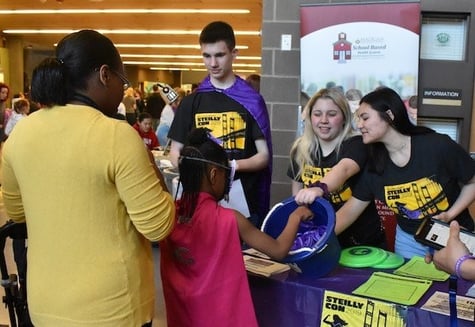 Pictured above: Support the students — Steilly Con 2019 was a family-friendly, district-wide event staged to provide supports for kids whose parents serve in the military.
District-wide social-emotional learning initiatives for students in these districts have led to higher success rates and positive outcomes. Read more about each District of Distinction honoree by clicking the button below.