Istation is excited to be a platinum sponsor of District Administration's Districts of Distinction program and highlight the honorees in the data-driven decision-making category.
Linden Public School District saw a lack of student growth and achievement in their district. Because they had numerous resources and a strong support systems in place, district administrators decided to introduce a five-year plan that focused on data-supported curriculum and instruction as well as empowering teachers to use data effectively.
With strong instructional coaches to lead this initiative, the efforts paid off and Linden saw success among student scores. Teachers received proper professional development and students met and exceeded expectations on English Language Arts assessments.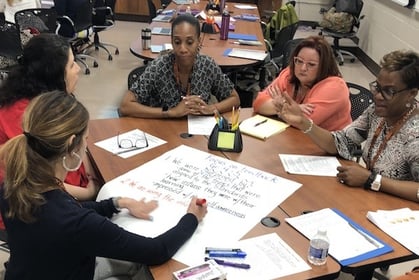 Pictured above: Linden Public School District's instructional leadership team collaborates to analyze data and develop action plans and instructional strategies.
Belleville Public Schools' story is similar in that they turned to student data to inspire change. The district implemented the R.I.S.E. (Realizing Individualized Student Enrichment) and Shine program to ensure students were mentally and physically prepared for the school day. While students ate and arrived early, teachers used data from assessments to differentiated instruction and develop methods to reach each individual student based on their specific needs.
Educators analyzed data from formative, summative, and observation to help them create individualized lesson plans. Teachers were able to use this time to review concepts with groups of students and pull remedial groups for instruction. This extra time strengthened student-teacher relationships and enhanced rigor throughout daily lessons.
We are so excited to share these wonderful examples of how data can help shape individualized instruction and impact the success a district sees! One district will be named the top honoree within each category. The outstanding honoree among all categories who demonstrated exemplary results and capacity to impact others with their story will be named the 2020 District of the Year. They will receive special recognition in District Administration magazine, at Future of Education Technology Conference, and in the nationally distributed press release.
Read more about each Districts of Distinction honoree by clicking the button below.