Looking for a great way to keep your students' minds engaged in learning over winter break? Send Istation Home for the holiday!
With Istation Home, students can work at their own pace in the Istation Reading program from the comfort of home. Students who have completed at least one assessment can access Istation Home and continue working along their learning path. To use Istation Home, students just need to download the program to their home computer or iPad! On the iPad, Istation Home becomes extra portable too!
Take this little girl for instance.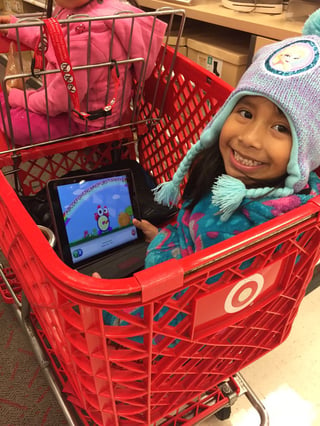 Tracey Roden, Vice President of Curriculum at Istation, noticed her using Istation while her parents shopped at Target. That's some great learning on the go!
You can even motivate your students to keep up with Istation by providing these incentives:
Award a prize to the student(s) who used Istation Home the most.

Reward the student who worked on Istation the farthest distance from school.

Send us comments from students about their Istation Home experience (what they liked best, how they used it over break, etc.) or photos of them using Istation Home, and we'll feature them on Facebook and Twitter. Just tag messages with #istationed.
Istation has great motivational resources and prizes you can use too.
Don't forget to involve parents in your efforts! If you enable the Parent Portal, parents can log in to www.istation.com with their child's username and password and view their child's progress. Parents will be eager to show off their child's progress around the dinner table.