Istation's new tool could be your new best friend!
It's almost that time. Let us be among the first to say, "Welcome Back!" We hope your summer was fun, exciting and relaxing! Are you new to Istation? Have you used Istation before but could use a refresher after a long summer on the beach sipping drinks from a coconut with a little umbrella? Are you an Istation veteran who wants to learn more about great features you have access to with Istation?
I'm Mike Benson, from the implementation team at Istation, and do I have great news for all of you! We have added a new feature on our website this year. When you log into www.istation.com, you will see a new section on the Report and Management Web Site called "Getting Started with Istation & Learn More About Us!"

The first time you log in you will see Day 1 highlighted. Day 1 will give you information on how to get started using Istation if you never have before! If you know how to use Istation you can certainly skip over this step and click on any of the other bubbles shown. Behind each bubble, you will find great information about Istation as well as tips, tricks and cool features that you may not have known about!
You will also notice a new Get Help tab in green at the top of each page: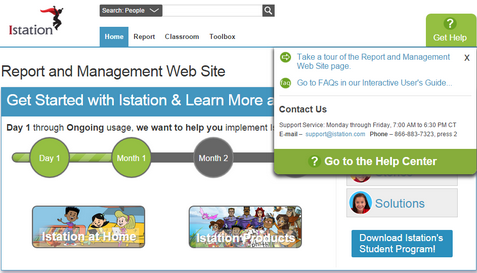 You can click here and navigate to the Help Center (formerly called the "Training Center") where you will be able to find role-based information to help you better use Istation. Contact information for our amazing Support Services team is also listed here if you have any technical questions while using Istation.
I spent 11 years in the classroom before becoming a Customer Usage Consultant at Istation. I really think this new feature will make getting started with Istation much easier. It should also enhance your implementation of Istation because it illuminates the myriad of resources available to you. Let me know what you think of it, and have a great year!