It's Halloween week! We thought we'd highlight a few of the mystery-themed books and passages in Istation's Teacher Resources. These stories will give you a chance to entertain your class as well as educate them!
For younger readers, Istation's Cycle 9 passage "The Scarecrow" (360L) is a short fiction story perfect for the fall season and chock full of high-frequency words. Cycle 10's "Who Is Following Us?" (270L) is a fiction book about a young boy who mistakes shadows for a scary stranger. Below is a page from "Who is Following Us?"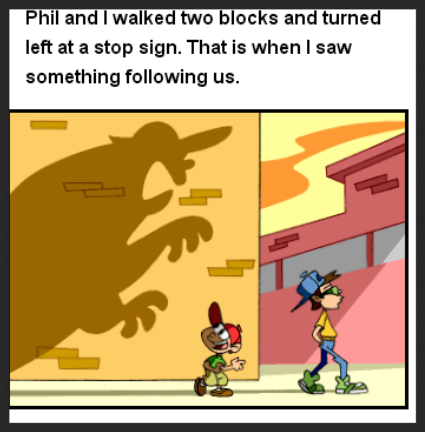 Older readers might be intrigued by passages in Cycle 13 such as "Ghost Dancers" (650L), "Ghost Party" (590L), "Into the Darkness" (690L) or "Mystery of the Phoenix Lights" (620L). Turn down your classroom lights, add some Halloween-mood music in the background, and read these stories aloud!
There's no trick to finding these resources. Click on Teacher Resources, open the search wizard for reading resources, and select 'Find by Cycle.'

Choose the cycles mentioned above (9, 10, and 13) to locate these stories and more. What a treat!