Teaching in the dual-language setting effectively calls on educators to reach deep into their bag of educational skills and tools. Students may speak different native languages, but they all need to learn the same concepts. Yet, what often happens is that non-native speakers are expected to perform like native speakers. Those students may comprehend the topic, but when asked questions intended to allow them to display that grasp, there may be a gap in replying because they lack the knowledge of the language being used to communicate that understanding.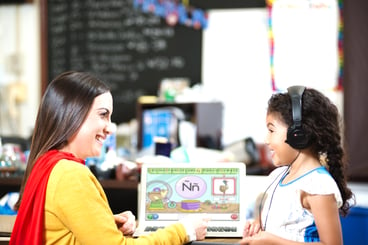 In that scenario, does silence relay confusion, ignorance or simple hesitancy about replying in a language other than the one they speak at home? How the teacher responds in that situation can make a big difference in how bilingual students' learning progresses and how they view their own capabilities to grow. One of the main goals of bilingual education is to build on the strengths that students bring to school to foster biliteracy and multiculturalism.
Empirical evidence has proven that students acquire a second language faster when they are proficient readers in their native language.
"Research has proven over and over again that bilingual kids or kids who are non-native English speakers (ELs) will do better when you provide an environment where that student is able to express himself or herself in a way that's understandable," explains Liliana Suero, curriculum director at Istation, which produces assessments, curriculum and teacher tools for the dual-language classroom.
To be able to succeed, students need two things, she says. First, they need a "risk-free environment where they feel they can express themselves and they're not nervous about speaking the second language, so they can worry less about how to say something than they do about the content and the academics." Second, "Students need plenty of opportunities to interact with peers in all four language domains: listening, speaking, reading and writing."
The most effective programs, she suggests, are those that allow the students to develop academic knowledge of concepts at the same time as they're learning the second language. As an example, in the earliest grades, preK-3rd, Spanish-speaking students might receive most of their instruction or content in Spanish with a small portion of learning done in English, including a mix of activities: songs, rhymes, animations, games and fun books to read with many illustrations. In those grades, perhaps only math is done purely in English. The goal is to build on the foundational skills across subjects -- like science and social studies -- with subsequent grades.
The best approaches are also backed by research. A good example of this is the concept of guided reading, a small-group reading model developed by Irene Fountas and Gay Su Pinnell. The basic idea is to expose young readers to books and passages on themes they care about that are targeted at their instructional reading level. Also, they need to be exposed to books that honor their heritage, traditions, and culture.
"Books used at the younger levels should be simple to read and provide plenty of visual reference to make sense of the text they read," says Suero. By the time students are in grades 4 and 5, both any type of passages and teacher-directed lessons are needed to expose them to lessons that help them gain an understanding of different genres characteristics and give them opportunities for small-group instruction. All of that is relevant to the dual-language class.
The Daily 5, a framework created by educators Gail Boushey and Joan Moser to guide learners in becoming independent readers and writers, promotes the regular use of several key components for encouraging students to learn how to read. It starts with looking at the pictures, then reading the words and finally retelling the story. Each of the Daily 5 tasks (Read to Self, Work on Writing, Read to Someone, Word Work and Listen to Reading) can be handled at a separate learning center or station in the classroom set up for that purpose.
The use of "decodable books" in English and Spanish in this setting both guide and provide reading strategies for students which can be reinforced in the learning centers format. These decodable books are easy to read since they contain words the students can decode and sight words which are commonly found in English and Spanish texts.
Data can help guide custom learning paths but educators must have the right tools to make that happen. Download a guide on how data can bridge dual-language learning gaps and boost student success.