The teachers at Jefferson Elementary School in Jerome, Idaho, used Istation's data results to see which students needed help with vocabulary. They implemented instructional routines, intervention practices, and more frequent progress monitoring to work with students in need.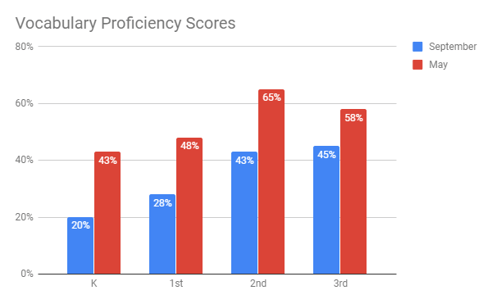 "When the first round of data came out, teachers noticed that vocabulary results were weak across all grade level cohorts," said Principal Angie Brulotte. "Because of our work with a new reading curriculum, we knew we needed to research and realign our practices in vocabulary."
By focusing on this single skill, the school made a huge impact and started getting the results they wanted to see. The graph pictured above shows the rise in vocabulary proficiency scores for each grade level. Read Jefferson's full story here.
Istation's data reporting feature can help you and your teachers focus on skill subtest areas to find and fill the gaps among students. Personalized data profiles from Istation can help measure reading, math, and Spanish literacy. Check out this video to learn more.
Get more information on Istation's personalized data and reporting in our FREE data e-brochure below.