Today we highlight another winner of the fall 2018 Istation Red Cape Moment Contest. We are proud to announce Parkwood Elementary School in Warner Robins, Georgia, as our second winner!
Parkwood is a medium-sized school in the in the Houston County School System with over 650 prekindergarten through 5th grade students. Amanda Bennett is the school's nominator, and she teaches 3rd graders there. One of the unique things that the school does to celebrate Istation growth is throw a superhero party every nine weeks.
This party's purpose is to recognize students who have shown growth from the beginning of the nine-week period to the end. They get to attend the party filled with games, music, and snacks and receive a personalized certificate and eagle bucks (the school's form of currency for the school's incentive store).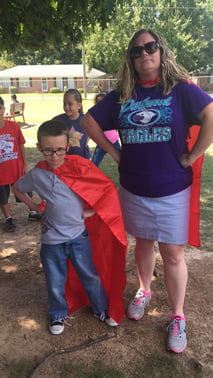 Teacher Ashley Renno strikes a superhero pose with her student.
The school encourages enthusiasm for growth whether it's a little or a lot. It isn't necessarily about being in Tier 1. Just growing from where you are is important. Bennett tells us that the 3rd grade teachers at Parkwood use the ISIP™ Skill Growth report to determine which students show growth from month to month. Students are also pictured on the superhero Istation board in the 3rd grade hall.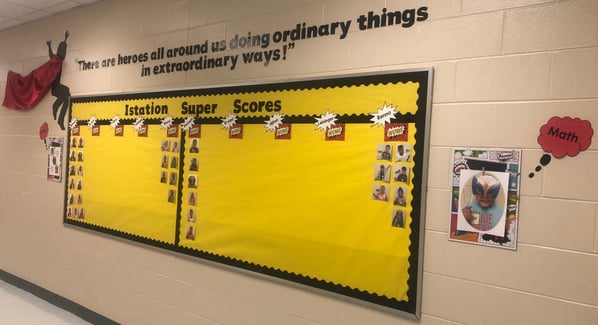 Parkwood Elementary displays students' success on a superhero board in the hall.
"Students pose for pictures with superhero props, and those pictures are placed on the board each month identifying students who showed growth that month in reading and/or math," Bennett said. "The top student or students (in the event of a tie) from the entire grade are placed in a special superhero frame on the sides of the bulletin board, receive a prize, and get to wear a red Istation cape around school that day for other students and staff to recognize them for their success."
Displaying this bulletin board as well as classroom data walls in the school's halls encourages students in a little friendly competition. It keeps them motivated by giving them constant updates and immediate feedback.
"Students are accountable for their growth and know why they're on Istation," Bennett said.
A Day in a Classroom at Parkwood Elementary
by Amanda Bennett
It's Monday morning at Parkwood Elementary School, and Mrs. Renno's class is breaking up into small groups for reading. Several students are on iPads and computers working on Istation.
Mrs. Renno calls a group of students, based on the Istation Priority Report, to the carpet to work on vocabulary.
"Today we are going to work on synonyms and antonyms," begins Mrs. Renno. "Let's begin by reviewing what is a synonym and an antonym. What is a synonym, Amanda?"
"Synonyms are words that mean the same thing," replies Amanda.
"Excellent job, Amanda! James, what is an antonym?" asks Mrs. Renno.
"Antonyms are words that mean the opposite," responds James.
"Fantastic! Let's see if you all can identify some synonyms and antonyms. Kaitlin, are hard and difficult synonyms or antonyms?" questions Mrs. Renno.
"They are synonyms," replies Kaitlin.
Mrs. Renno does a few more examples with the students.
"Now let's see if you can solve my riddle!" exclaims Mrs. Renno. She reads the clue out loud, and Chelsie solves the riddle correctly. "Great work, Chelsie! Fill in the answer on Detective Dan's 'Nym' Soup Bowl," says Mrs. Renno.
The students break up into partners, and they fill up Detective Dan's Soup Bowl by solving more riddles. Mrs. Renno monitors their progress as they work.
Inside a Data Meeting at Parkwood
by Amanda Bennett
On a sunny Thursday morning at Parkwood Elementary School, the 3rd grade teachers hurry to their Thursday PLC/Data meeting with Assistant Principal of Instruction Kelly Munn.
"Good morning, 3rd grade teachers," Mrs. Munn says in a cheerful voice. "Let's get ready to dig in to some data!"
The 3rd grade teachers open their data binders to their Istation Priority Reports and begin discussing their students' growth and their areas of struggle/difficulty. Mrs. Munn highlights some information on the interactive whiteboard, where she has displayed the usage reports for the 3rd grade teachers. She explains how excited she is that 3rd grade students in Tier 3 and Tier 2 are getting the required amount of usage time for reading and math.
Next she asks teachers to think about how they can use the teacher directed lessons in small groups this week to move students from Tier 3 to Tier 2 and from Tier 2 to Tier 1. The teachers then begin to plan for their small-group instruction based on the Priority Report for ISIP Reading and ISIP Math.
As the teachers are leaving the meeting, Mrs. Renno and Mrs. Bennett excitedly give each other a high five and breathe a sigh of relief that the Priority Report made it so easy to plan for small groups and that they already have the teacher directed lesson to help them teach their students the skills they are struggling with in reading and math.
~~~
Tune in next week to hear about the third and final winner of our fall 2018 Red Cape Moment Contest!