Istation's Florida Participation Contest kicked off November 28, 2016, and ended on January 31, 2017. The winning prizes went to the schools with the highest average total minutes spent by students on Istation. Istation's implementation team noticed that the top four schools all came from Pinellas County School District.
First place prizes went to Bear Creek Elementary School in St. Petersburg, Florida!
Bear Creek has been using Istation Reading for three years now and dedicates the first hour of each day to school-wide reading intervention practices. The district calls this "Magic Hour." During Magic Hour, students rotate between small-group time, reading center activities, and Istation time on computers or iPads. Students' ISIP™ assessment scores from the beginning of the month determine their tiers. The tier level corresponds with the number of recommended minutes students should be spending on the program weekly.
Bear Creek provides 120 students' families with laptops for use at home.
"Students are able to access Istation from home and complete additional assignments created by the teacher. We almost always offer some sort of incentive to Istation usage over extended holidays/breaks," said Willette Houston, principal at Bear Creek.
When staff throughout the district heard about Bear Creek winning first prize for the Florida Participation Contest, they were ecstatic.
"Everyone across the district has heard about our success story; I even received a personal call from the superintendent of schools. It was exactly the praise and recognition that my students and staff needed. The timing was impeccable!" Principal Houston said.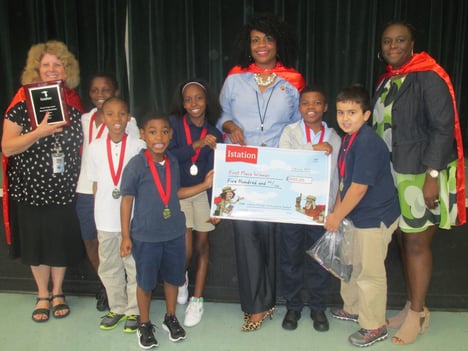 Principal Houston and top students from every grade level receive medals, capes, and a school check for $500 as winners of the Istation contest.
Second place went to Seventy-Fourth St. Elementary School! The administration team at Seventy-Fourth congratulated the entire school's achievements on their Web site.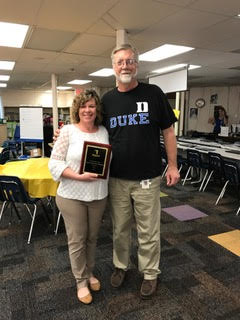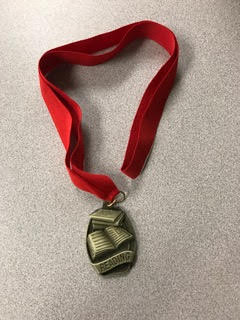 These photos are displayed on the school's Web site along with congratulations to teachers and students for all their hard work.
Third place went to High Point Elementary School! Michael Feeney, the principal at High Point, tells me that the school uses ISIP twice a month to document growth and focus on detailed areas of need for each student. Similar to Bear Creek students, students at High Point work on Istation during their Magic Hour intervention block to get in their weekly minutes. The students in all grade levels (K-5) are involved in monitoring their own growth on Istation.
High Point is home to the Istation Fairy, whom we have talked about in earlier blog posts. The Istation Fairy motivates students by sprinkling clear glitter on their hands. The glitter (aka fairy dust) helps students feel "smart" once they smooth it over their hands and pat their heads three times.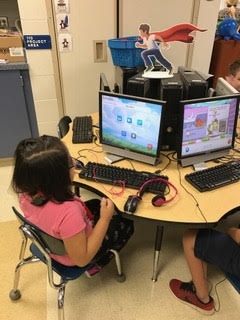 A High Point student works during the school-wide Magic Hour, the first hour of every school day.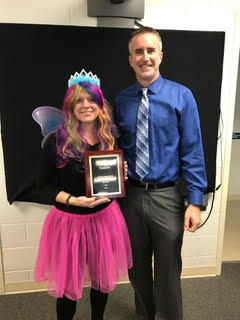 Karen Cangemi, the Istation Fairy/reading coach, and Principal Michael Feeney are awarded the Istation 3rd place plaque to hang in their media room.
Fourth place went to Kings Highway Elementary Magnet School! Kings Highway is "Home of the Lions," where the students focus on innovation and digital learning.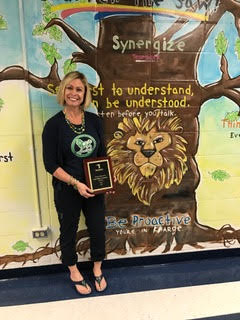 Principal Garyn Boyd happily accepts the school's award for the students' achievements during the Florida Participation Contest.
Congratulations to our Florida contest winners!!