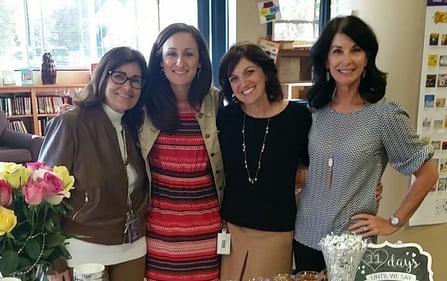 Tia Maddox (far left) and her team of teachers
Tia Maddox, a kindergarten teacher at Colleyville Elementary School, remembers the day her district shared the news about using a new computer program called Istation. Maddox admits she rolled her eyes at first and thought to herself, "What are we supposed to do now?" As an educator you probably have felt similar feelings the moment you see your "To Do" list growing yet again. It may seem there is no end in sight!
Maddox wondered if her kindergarteners would be able to take on this computer program. "It will take forever just to log in," she thought. To her surprise, the students learned their login information and loved the program! She was amazed at how easy this was for her to execute. Istation Reading saved her time gathering information about her students' academic needs. Maddox noticed her kindergarteners singing along, smiling, and laughing out loud as they worked.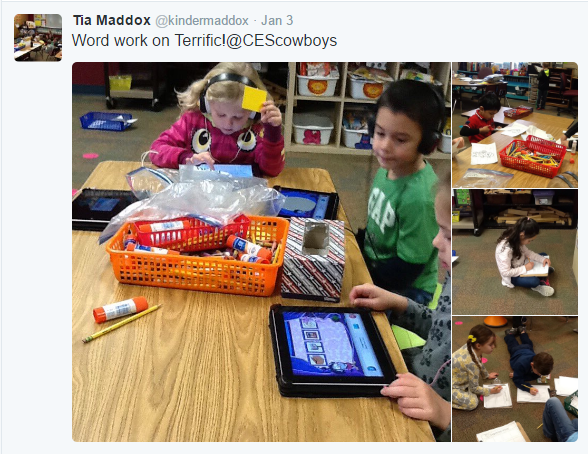 "It was awesome! I started to tweet about it and started to hear back from people at Istation," she said. "I decided that I wanted to know more and just started poking around on the teacher Web site. As the children happily worked, I learned how the program worked, what the data looked like, and how to use it."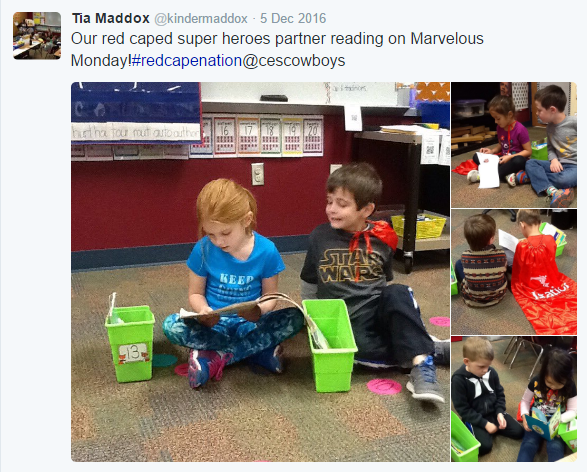 The first time Istation reached out to Maddox was in February 2016. Ossa Fisher, Istation's Chief Marketing Officer, asked if she would be interested in attending Istation's first Educator Conference. Maddox was thrilled to attend and represent her district at the conference in Dallas, Texas.
"I learned so much and met all the awesome people who worked at Istation. Everyone was so friendly, nice, helpful, and down to earth!" Maddox said. "They went out of their way to make sure that everyone there was comfortable and that they were having all their needs met and questions answered. When they showed us the red capes, I knew what I had to do. I asked if I could have a class set, of course!"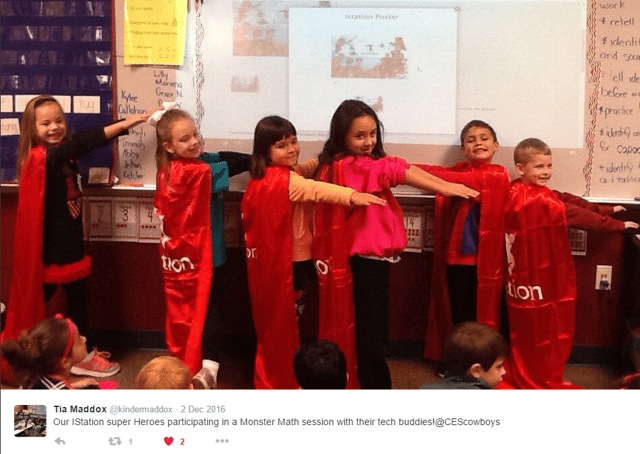 As the year progressed, Maddox showed us at Istation just how much she appreciated us.
Two kindergartners partner reading with one of Istation's printable books.
"We started to tweet out pictures of the children meeting their goals for the week wearing the red cape for the day, parents started downloading the program at home, we were setting goals using the program and the data, and we were using the resources! The children were begging to go on the program during play center times, and it was awesome, " Maddox says.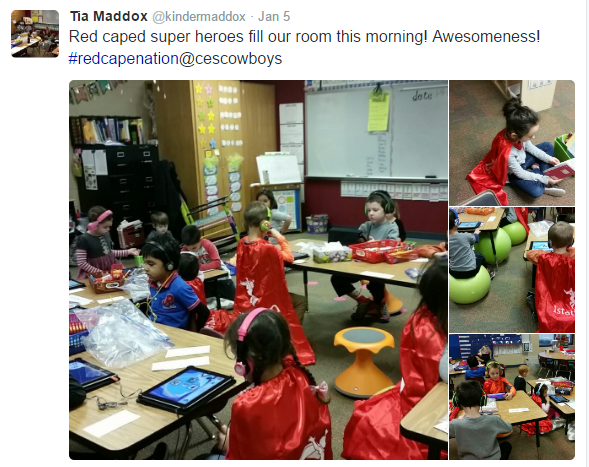 Istation's relationship with Maddox and Colleyville Elementary continues to grow. We at Istation appreciate all the hard work educators put in day to day. We celebrate Istation success stories like this one. Thank you, Tia!
Share your own Red Cape story here: