What is the difference between Response to Intervention (RTI) and Multi-Tiered Systems of Support (MTSS)? In the past, you may have thought these terms were one and the same. While they are similar, there are a few things to understand about their differences.
The terms RTI and MTSS are not interchangeable. RTI fits within the MTSS framework. RTI is set in place at a school to help prevent the selection of too many students to receive Special Education Services while ensuring that those who do qualify receive specialized instruction to meet their needs. RTI focuses on providing high-quality instruction and intervention to struggling students, typically students in Tier 3.
MTSS involves the entire school system in the intervention process. That means RTI falls within the greater MTSS structure. MTSS is multi-tier providing support to all students, from those who are struggling to advanced learners. MTSS makes sure resources such as technology tools, effective curriculum, and professional development are provided to empower teachers, to support staff, and ultimately, to help students. MTSS addresses not only students' academic performance, but also their social, emotional, and behavioral development.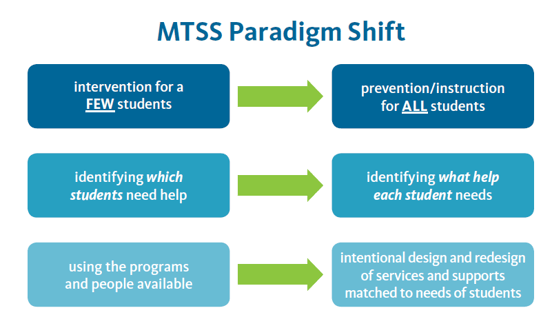 Istation's intervention e-book From RTI to MTSS is an excellent tool to have when building your school's intervention team. Download your copy today!